noun
The definition of an inn is a hotel or a place that provides food, lodging and accommodations.

A hotel in a small town with rooms for out of town guests to sleep in is an example of an inn.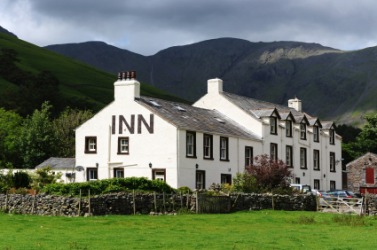 An English country inn.
---
inn
noun
Obsolete

any dwelling or lodging

an establishment or building providing lodging and, usually, food and drink for travelers; hotel or motel, esp. one in the country or along a highway
a restaurant or tavern: now usually only in the names of such places

Historical, Brit.

any of various houses in London providing lodging for students
Origin of inn
Middle English
yn
; from Old English
inn
(akin to Old Norse
inni
) ; from adv.
inn, inne
, within: see in
transitive verb
,
intransitive verb
Archaic
to lodge at an inn
river flowing from E Switzerland across W Austria & SE Bavaria into the Danube: c. 320 mi (515 km)
---
inn
noun
A public lodging house serving food and drink to travelers; a hotel.
A tavern or restaurant.
Chiefly British Formerly, a residence hall for students, especially law students, in London.
Origin of inn
Middle English, from Old English; see
en
in Indo-European roots.
A river of eastern Switzerland, western Austria, and southeast Germany flowing about 515 km (320 mi) northeastward to the Danube River. Its lower course forms part of the German-Austrian border.
---
inn
---
inn - Computer Definition
---