inn

Inn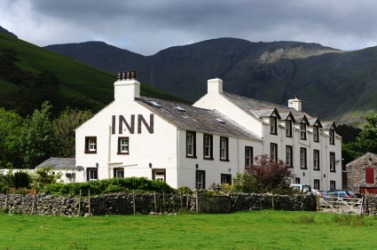 An English country inn.
noun
The definition of an inn is a hotel or tavern that provides lodging to travelers.

A hotel in a small town with rooms for out of town guests to sleep in is an example of an inn.
---
inn
Obs.

any dwelling or lodging

an establishment or building providing lodging and, usually, food and drink for travelers; hotel or motel, esp. one in the country or along a highway
a restaurant or tavern: now usually only in the names of such places

Historical, Brit.

any of various houses in London providing lodging for students
Origin of inn
Middle English
yn
from Old English
inn
(akin to Old Norse
inni
) from adv.
inn, inne
, within: see in
Archaic
to lodge at an inn
Inn
river flowing from E Switzerland across W Austria & SE Bavaria into the Danube: c. 320 mi (515 km)
---
inn
noun
A public lodging house serving food and drink to travelers; a hotel.
A tavern or restaurant.
Chiefly British Formerly, a residence hall for students, especially law students, in London.
Origin of inn
Middle English
from
Old English; see
en
in Indo-European roots.
Inn
A river of eastern Switzerland, western Austria, and southeast Germany flowing about 515 km (320 mi) northeastward to the Danube River. Its lower course forms part of the German-Austrian border.
---
inn

Noun
(plural inns)
Any establishment where travellers can procure lodging, food, and drink.
A tavern.
One of the colleges (societies or buildings) in London, for students of the law barristers.

the Inns of Court; the Inns of Chancery; Serjeants' Inns

(UK, dated) The town residence of a nobleman or distinguished person.

Leicester Inn
Verb
(third-person singular simple present inns, present participle inning, simple past and past participle inned)
(obsolete, intransitive) To take lodging; to lodge.
---
inn - Computer Definition
---