bed and breakfast
bed and breakfast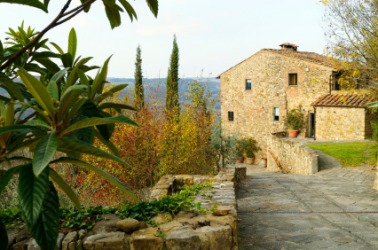 A B & B, bed and breakfast, in Tuscany.
noun
The definition of a bed and breakfast is a place where guests can pay to stay in someone's home and to receive a morning meal.

An example of a bed and breakfast is a lady's home on the lake where she offers rooms to stay in and a morning meal for a nightly price.
---
bed-and-breakfast
designating or of accommodations, as in a hotel or private home, in which breakfast is provided as part of the price
an establishment featuring such accommodations
---
bed and breakfast
noun
Abbr.
B & B
A private residence, several rooms of which are set aside for overnight guests whose paid accommodations include breakfast.
Related Forms:
bed′-and-break′fast

adjective
---
bed-and-breakfast

Noun
Alternative spelling of bed and breakfast.
Noun
(plural bed and breakfasts)
A private home or guesthouse, etc. where guests are provided overnight accommodations and served breakfast but usually no other meals.
(darts) A score of 26, made up of a score of 20, 1 and 5 in any order.
---