noun
The definition of a hostess is a female who entertains guests, or who seats people in a restaurant.

A woman who throws a dinner party is an example of a hostess.
A woman who leads you to your table at a restaurant after you've given her your name and the time of your reservation is an example of a hostess.
verb
To hostess is defined as to throw an event or party, or to work in a restaurant welcoming and seating guests.

When you throw a dinner party, this is an example of when you hostess.
When you work in the front of a restaurant and you take reservations and seat guests, this is an example of when you hostess.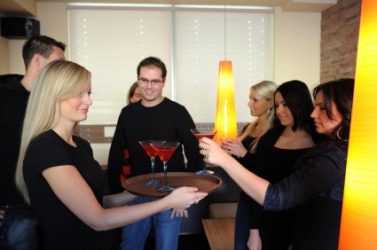 A hostess serving drinks to her guests.
---
hostess definition by Webster's New World
noun
a woman who entertains guests either at home or elsewhere; sometimes, the wife of a host
a woman innkeeper or the wife of an innkeeper

a woman whose work is seeing that guests or travelers are comfortable, as in a lodge
a woman employed in a restaurant to supervise serving, often in charge of reservations and of seating patrons
a woman who serves as a paid partner at a public dance hall
Origin: Middle English ; from Old French hostesse, feminine of hoste, host
intransitive verb
,
transitive verb
to act as hostess (for)
Webster's New World College Dictionary Copyright © 2010 by Wiley Publishing, Inc., Cleveland, Ohio. Used by arrangement with John Wiley & Sons, Inc.
---
hostess definition by American Heritage Dictionary
noun
A woman who receives or entertains guests in a social or official capacity.
A woman who manages an inn or hotel.
A woman who is the emcee or interviewer on a radio or television program.
A woman who is employed to greet and assist patrons, as in a restaurant.
A woman who is employed to dance with customers in a dance hall or nightclub. See Usage Note at -ess.