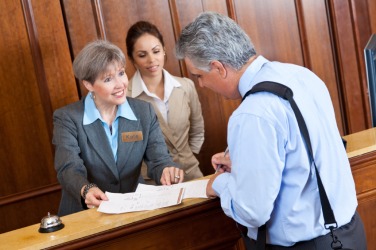 A hotel guest signs the register.
noun
The definition of a guest is a person welcomed into someone's home or a customer at a restaurant or hotel.

An example of a guest is a person staying at a Holiday Inn for a few nights.
verb
Guest is defined as to welcome someone into the home, or to make a special appearance by invitation.

An example of guest is to host a party and entertain attendees.
An example of guest is to attend a party after being invited.
---
guest
a person entertained at the home of another; visitor
a person entertained by another acting as host at a restaurant, theater, etc.

any paying customer of a hotel, restaurant, etc.
a nonmember receiving the hospitality of a club, institution, etc.
a person who appears or performs on a program by special invitation
inquiline
Origin of guest
Middle English
gest
from Old Norse
gestr
, akin to Old English
gæst
, German
gast
from Indo-European base an unverified form
ghostis
, stranger, guest from source Classical Latin
hostis
for guests
performing by special invitation: a guest artist
to be, or perform as, a guest
---
guest
noun
One who is a recipient of hospitality at the home or table of another.
One to whom entertainment or hospitality has been extended by another in the role of host or hostess, as at a party.
One who pays for meals or accommodations at a restaurant, hotel, or other establishment; a patron.
A distinguished visitor to whom the hospitality of an institution, city, or government is extended.
A visiting performer, speaker, or contestant, as on a radio or television program.
Zoology A commensal organism, especially an insect that lives in the nest or burrow of another species.
verb
guest·ed, guest·ing, guests
verb
transitive
To entertain as a guest.
verb
intransitive
To appear as a guest: guested on a television series.
adjective
Provided for guests: guest rooms.
Participating as a guest: a guest conductor.
Origin of guest
Middle English
gest
from
Old Norse
gestr
; see
ghos-ti-
in Indo-European roots.
---
guest

---
guest - Computer Definition
---