host

host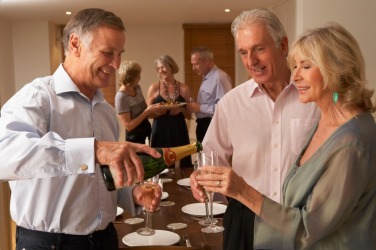 A couple recieve a drink from their host.
noun
The definition of host is someone or something that entertains others or invites others in, or the wafer used in Christian communion.

An example of host is someone who gives a party.
An example of host is a dog that has fleas.
An example of host is the cracker used during communion.
verb
Host is defined as the action of inviting others in or having guests.

An example of host is when you throw a party.
---
host
a wafer of the bread used in a Eucharistic service
[H-] a consecrated Eucharistic wafer
Origin of host
Middle English
hoste
from Old French
hoiste
from Ecclesiastical Medieval Latin
hostia
, consecrated host from L, animal sacrificed, probably from
hostire
, to recompense, requite
one who entertains guests either at home or elsewhere
a person who keeps an inn or hotel; innkeeper
an organization, municipality, etc. providing the site and services for a competition or event: Berlin was host to the 1936 summer Olympics

any organism on or in which a parasitic organism lives for nourishment or protection
an individual, esp. an embryo, into which a graft is inserted

Comput.

the main or central computer in a network
a server that stores Web pages and makes them available on the World Wide Web
a company that provides customers with such a server and related services for maintaining a website

the person who conducts a program that features conversation, interviews, etc.
the emcee of a game show
Origin of host
Middle English
hoste
from OFr, host, guest from Classical Latin
hospes
(gen.
hospitis
): see hospice
to act as host or hostess (for)
an army
a multitude; great number
Origin of host
Middle English from Old French from Medieval Latin
hostis
, army, hostile force from L: see hospice
---
host
noun
One who receives or entertains guests in a social or official capacity.
A person who manages an inn or hotel.
One that furnishes facilities and resources for a function or event: the city chosen as host for the Olympic Games.
The emcee or interviewer on a radio or television program.
Biology

a. An organism on which or in which another organism lives.

b. A cell that has been infected by a virus or other infective agent.

Medicine The recipient of a transplanted tissue or organ.
Computers

a. A computer or other device providing data or services that a remote computer can access by means of a network or modem.

b. A computer that is connected to a TCP/IP network such as the internet.
transitive verb
host·ed, host·ing, hosts
To serve as host to or at: "the garden party he had hosted last spring" ( Saturday Review )
To provide software that offers data or services, hardware, or both over a computer network.
Origin of host
Middle English
host, guest
from
Old French
from
Latin
hospes
hospit-
; see
ghos-ti-
in Indo-European roots.
Related Forms:
noun
An army.
A great number; a multitude. See Synonyms at multitude.
Origin of host
Middle English
from
Old French
from
Late Latin
hostis
from
Latin
enemy
; see
ghos-ti-
in Indo-European roots.
also Host
noun
Ecclesiastical
The consecrated bread or wafer of the Eucharist.
Origin of host
Middle English
from
Latin
hostia
sacrifice
---
host

---
host - Computer Definition

The central computer in a mainframe or midrange computer environment to which the networks and terminals connect. See also computer, mainframe computer, midrange computer, network, and terminal.
In telecommunications, local area networks (LANs), and networks, in general, a server that functions to provide programs or data files to client computers. See also client, LAN, telecommunications, network, and server.
---

A computer that permits users to communicate with other computers on a network by providing a service. Individual users access these services through application programs such as electronic mail (email), FTP, and telnet.
See Also: Electronic Mail or Email; FTP (File Transfer Protocol); Network; Telnet.
QUT Division of Technology, Information and Learning Support. Network Glossary. [Online, July 17, 2003.] QUT Division of Technology, Information and Learning Support Website. http://www.its.qut.edu.au/network/glossary.jsp.
---
(1) A source of information or signals. The term can refer to a computer, smartphone, tablet or any electronic device. In a network, clients (users' machines) and servers are hosts because they are both sources of information in contrast to network devices, such as routers and switches, which only direct traffic. See host adapter and hostname.
(2) To have in one's possession. When you "host a computer system," the system is running in your facility. Although sounding inane, it is technically accurate to say "our company hosts many hosts!"
---