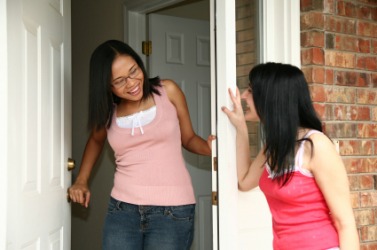 A woman welcomes a visitor.
noun
The definition of a visitor is someone, such as a tourist, who comes to a place temporarily.

An example of a visitor to New York is someone who lives in Baltimore.
---
visitor
someone or something making a visit
Origin of visitor
Middle English
visitour
from Anglo-French from Middle French
visiteur
---
visitor
noun
One that visits: Sunday afternoon visitors; lost the game to the visitors.
---
visitor

Noun
(plural visitors)
Someone who visits someone else; someone staying as a guest.
Someone who pays a visit to a specific place or event; a sightseer or tourist.
(sports, usually in the plural) Someone, or a team, that is playing away from home.
(ufology) An extraterrestrial being on Earth for any reason.
An object which lands or passes by Earth or its orbit.
---
visitor - Computer Definition
A person who accesses a website. On the Web, the terms "visitor" and "user" are synonymous. See unique visitors and visit.
---