extraterrestrial

ex·tra·ter·res·tri·al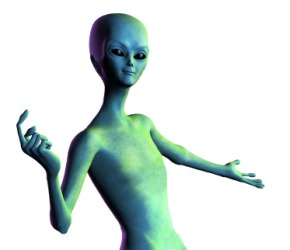 One persons idea of an extraterrestrial.
adjective
Extraterrestrial is defined as something from space.

An example of extraterrestiral would be intelligent life forms that come from another planet.
noun
The definition of an extraterrestrial is an alien, or a hypothetical or fantasy figure of some intelligent being that lives on a planet other than earth.

An example of an extraterrestrial is the alien E.T. from the movie or Alf from the TV show.
---
extraterrestrial
existing, taking place, or coming from outside the limits of the earth
an extraterrestrial being, as in science fiction
---
extraterrestrial
adjective
Originating, located, or occurring outside Earth or its atmosphere: intelligent extraterrestrial life.
noun
An extraterrestrial being or life form.
---
extraterrestrial

---