planet

plan·et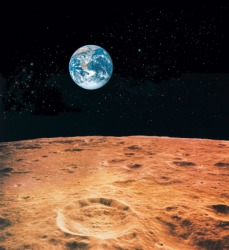 Planet Earth
noun
The definition of a planet is a large mass that revolves around a star, such as one of the celestial bodies moving around the sun.

The Earth is an example of a planet.
---
planet
Obs.

any of the celestial objects with apparent motion (as distinguished from the apparently still stars), including the sun, moon, Mercury, Venus, Mars, Jupiter, or Saturn
now, a large, opaque, nonluminous mass, usually with its own moons, that revolves about a star; esp., one of the sun's eight major planets: Mercury, Venus, Earth, Mars, Jupiter, Saturn, Uranus, and Neptune: until recently, Pluto had been classified as the ninth major planet

Astrol.

any of the celestial bodies regarded as influencing human lives: traditionally, Mercury, Venus, Mars, Jupiter, Saturn, Uranus, Neptune, Pluto, and the sun and moon
Origin of planet
Middle English
planete
from Old French from Late Latin
planeta
from Classical Greek
plan?t?s,
wanderer from
planan,
to lead astray, wander from Indo-European base an unverified form
pl?-,
flat, spread out from source plain
---
planet
noun
a. In the traditional model of solar systems, a celestial body larger than an asteroid or comet, illuminated by light from a star, such as the sun, around which it revolves.

b. A celestial body that orbits the sun, has sufficient mass to assume nearly a round shape, clears out dust and debris from the neighborhood around its orbit, and is not a satellite of another planet.

One of the seven celestial bodies, Mercury, Venus, the moon, the sun, Mars, Jupiter, and Saturn, visible to the naked eye and thought by ancient astronomers to revolve in the heavens about a fixed Earth and among fixed stars.

a. The collection of life forms supported on Earth: an asteroid that threatened the whole planet.

b. People as a whole; humankind or the general public: The entire planet was affected by the global recession.

One of the seven revolving astrological celestial bodies that in conjunction with the stars are believed to influence human affairs and personalities.
Origin of planet
Middle English
from
Old French
planete
from
Late Latin
planēta
from
Greek
planētēs
variant of
planēs
planēt-
from
planāsthai
to wander
; see
pelə-
2
in Indo-European roots.
Usage Note: Clyde Tombaugh's discovery of Pluto in 1930 added a ninth planet to our solar system, and thereafter students of astronomy were taught the familiar list of nine planets: Mercury, Venus, Earth, Mars, Jupiter, Saturn, Uranus, Neptune, and Pluto. But in 2006, the International Astronomical Union (IAU) voted to change the definition of planet, requiring that a celestial body must have enough mass to assume a round shape and "clear the neighborhood around its orbit" in order to qualify as a planet. This means that a planet cannot have other objects in or crossing its orbit except smaller objects that have been captured by its gravity, such as those that revolve around it as moons. Because Neptune's large mass has captured Pluto so that the two planets remain in orbits that cross, Pluto has not cleared its own orbit and was therefore demoted from planet status to that of a newly created category, dwarf planet. Like a planet, a dwarf planet orbits the sun, is large enough to assume a nearly round shape, and does not orbit a planet (as our Moon does). But a dwarf planet does not clear the neighborhood around its orbit and may cross the paths of other objects orbiting the sun. Other dwarf planets include Ceres, whose orbit is in the asteroid belt between Mars and Jupiter, and Eris, an object in the Kuiper belt beyond Pluto. At the same meeting, the IAU created a third category of objects known as small solar system bodies, which includes asteroids (sometimes referred to as "minor planets," compounding the difficulty of the term planet ), comets, objects beyond Neptune's orbit, and other nonspherical bodies. Although officially approved, this new scheme of the solar system remains controversial among astronomers and may well be revised.
---
planet

Noun
(plural planets)
(now historical or astrology) Each of the seven major bodies which move relative to the fixed stars in the night sky""the Moon, Mercury, Venus, the Sun, Mars, Jupiter and Saturn. [from 14th c.]
(astronomy) A body which orbits the Sun directly and is massive enough to be in hydrostatic equilibrium (effectively meaning a spheroid) and to dominate its orbit; specifically, the eight major bodies of Mercury, Venus, Earth, Mars, Jupiter, Saturn, Uranus, and Neptune. (Pluto was considered a planet until 2006 and has now been reclassified as a dwarf planet.) [from 17th c.]
A large body which directly orbits any star (star cluster) but which has not attained nuclear fusion.
In phrases such as the planet, this planet, sometimes refers to the Earth.
Usage notes
The term planet originally meant any star which wandered across the sky, and generally included comets and the Sun and Moon. With the Copernican revolution, the Earth was recognized as a planet, and the Sun was seen to be fundamentally different. The Galileian satellites of Jupiter were at first called planets (satellite planets), but later reclassified along with the Moon. The first asteroids were also thought to be planets, but were reclassified when it was realized that there were a great many of them, crossing each other's orbits, in a zone where only a single planet had been expected. Likewise, Pluto was found where an outer planet had been expected, but doubts were raised when it turned out to cross Neptune's orbit and to be much smaller than the expectation required. When Eris, an outer body more massive than Pluto, was discovered, the International Astronomical Union (IAU) officially defined the word "planet" as above. However, a significant minority have refused to accept the IAU definition. Many simply continue with the nine planets that had been recognized prior to the discovery of Eris. Others are of the opinion that orbital parameters should be irrelevant, and that any equilibrium (≈ spherical) body in orbit around a star is a planet; there are likely several hundred such bodies in the Solar system. Still others argue that orbiting a star should also be irrelevant, thus re-accepting the Galileian satellites (as well as a dozen other moons) as planets.
Note that the 2006 IAU definition defines a planet in respect to the Sun, and is thus technically inapplicable to exoplanets.
gas giant
ice giant
sub-brown dwarf
planetary object
Origin
From Middle English planete, from Old English planÄ"ta ("planet, chasuble"), from Latin planeta, planetes, from Ancient Greek πλανήτης (planÄ"tÄ"s) variant of πλάνης (planÄ"s, "wanderer, planet"), from Ancient Greek πλανάω (planáō, "wander about, stray"), of unknown origin. Perhaps from a Proto-Indo-European *pel- ("to wander, roam"), cognate with Latin pālor ("wander about, stray"), Old Norse flana ("to rush about"), Norwegian flanta ("to wander about"). More at flaunt.
---