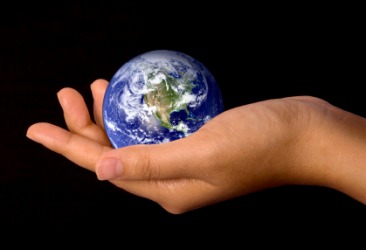 A woman holds a globe of the Earth.
noun
The definition of a globe is something round in the shape of a ball, especially the earth.

An example of a globe is a glass ball with a winter scene depicted inside.
---
globe
any round, ball-shaped thing; sphere; specif.,

the earth
a spherical model of the earth showing the continents, seas, etc.
a similar model of the heavens, showing the constellations, etc.

anything shaped somewhat like a globe; specif.,

a round glass container, as for goldfish
a rounded glass cover for a lamp
a small, golden ball used as a symbol of authority
Origin of globe
Middle English from Classical Latin
globus
, a ball: for Indo-European base see climb
transitive verb
intransitive verb
globed

,

glob′ing
to form or gather into a globe
the Globe
former London theater on the S bank of the Thames: site of the original performances of many of Shakespeare's plays
---
globe
noun
A body with the shape of a sphere, especially a representation of the earth in the form of a hollow ball.

a. The earth.

b. A planet.

A spherical or bowllike container, especially a glass cover for a light bulb.
A sphere emblematic of sovereignty; an orb.
intr. & tr.v.
globed, glob·ing, globes
To assume the shape of or form into a sphere.
Origin of globe
Middle English
from
Old French
from
Latin
globus
---
globe

---