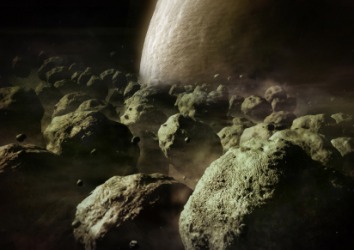 A ring of asteroids
noun
The definition of an asteroid is a rocky mass that orbits the sun.

Facts About Astroids

More than 1,800 asteroids have been identifed in the solar system.

Asteroids are made from one of three types of materials:

C-type - Made of carbon containing rocks

S-type - Made of silicon-based rocks

M-types - Large asteroids which contain metal

Scientists believe that asteroids may be the remains of the formation of the solar system - the Big Bang explosion. The material that was not pulled into one of the planets remained in space and began its own cooling process. The material that did not get pulled into a planetary gravitational field continues to grow as an asteroid.

The most common source of asteroids is the main asteroid belt between Mars and Jupiter.
The largest asteroid on record is Ceres which is large enough to be considered a dwarf planet, amounting to approximately 27% of the total mass of the main belt of asteroids that lie between Mars and Jupiter.

A small planet whose orbit is between Mars and Jupiter is an example of an asteroid.
---
asteroid
starlike; shaped like a star or starfish
Origin of asteroid
Classical Greek
asteroeid?s
from
ast?r
, star +
eid?s
, -oid
any of the thousands of relatively small, irregularly shaped objects orbiting the sun typically between Mars and Jupiter

Zool.

starfish
---
asteroid
noun
Astronomy Any of numerous small solar system bodies that revolve around the sun, with orbits lying chiefly between Mars and Jupiter and characteristic diameters roughly between one and several hundred kilometers. Also called minor planet . Also called planetoid .
Zoology See starfish.
adjective
also
as·ter·oi·dal
Star-shaped.
Origin of asteroid
From
Greek
asteroeidēs
starlike
astēr
star
; see
ster-
3
in Indo-European roots.
-oeidēs
-oid
---
asteroid

Noun
(plural asteroids)
(astronomy) A naturally occurring solid object, which is smaller than a planet and is not a comet, that orbits a star
(astronomy) In the Solar system, such a body that orbits within the orbit of Jupiter
(zoology) Any member of the taxonomic class Asteroidea; a starfish
Usage notes
The term "asteroid" has never been precisely defined. It was coined for objects which looked like stars in a telescope but moved like planets. These were known from the asteroid belt between Mars and Jupiter, and were later found co-orbiting with Jupiter (Trojan asteroids) and within the orbit of Mars. They were naturally distinguished from comets, which did not look at all starlike. Starting in the 1970s, small non-cometary bodies were found outside the orbit of Jupiter, and usage became divided as to whether to call these "asteroids" as well. Some astronomers restrict the term "asteroid" to rocky or rocky-icy bodies with orbits up to Jupiter. They may retain the term planetoid for all small bodies, and thus tend to use it for icy or rocky-icy bodies beyond Jupiter, or may use dedicated words such as centaurs, Kuiper belt objects, transneptunian objects, etc. for the latter. Other astronomers use "asteroid" for all non-cometary bodies smaller than a planet, even large ones such as Sedna and (occasionally) Pluto. However, the distinction between asteroid and comet is an artificial one; many outer "asteroids" would become comets if they ventured nearer the Sun. The official terminology since 2006 has been small Solar System body for any body that orbits the Sun directly and whose shape is not dominated by gravity.
Origin
Borrowing from Ancient Greek ἀστεροειδής (asteroeidēs), from ἀστήρ (astēr, "star") + εἶδος (eidos, "form").
---