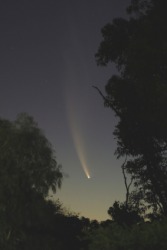 The McNaught comet at sunset.
noun
The definition of a comet is a celestial body that moves around the sun, and as it goes near the sun it forms a vapor trail of dust and gas that streams after it.

An example of comet is Haley's.
---
comet
a small, frozen mass of water, gas, rocks, and dust revolving around the sun in a parabolic or elliptical orbit: as it nears the sun it vaporizes, forming a coma and, usually, a long tail of ions that points away from the sun
Origin of comet
Middle English
comete
from Old English
cometa
and Old French
comete
, both from Classical Latin
cometa
from Classical Greek
kom?t?s
, literally , long-haired Americanism from
kom?
, literally , hair of the head
---
comet
noun
A celestial body, observed only in that part of its orbit that is relatively close to the sun, having a head consisting of a solid nucleus surrounded by a nebulous coma up to 2.4 million kilometers (1.5 million miles) in diameter and an elongated curved vapor tail arising from the coma when sufficiently close to the sun. Comets are thought to consist chiefly of ammonia, methane, carbon dioxide, and water.
Origin of comet
Middle English
comete
from
Old English
comēta
from
Late Latin
from
Latin
comētēs
from
Greek
komētēs
long-haired (star), comet
from
komē
hair
Related Forms:
com′et·ar′y co·met′ic

adjective
comet
Comet Hyakutake was discovered by Yuji Hyakutake of Japan on January 30, 1996
---
comet

Noun
(plural comets)
(astronomy) A celestial body consisting mainly of ice, dust and gas in a (usually very eccentric) orbit around the Sun and having a "tail" of matter blown back from it by the solar wind as it approaches the Sun.
A celestial phenomenon with the appearance given by the orbiting celestial body.
---