gas

gas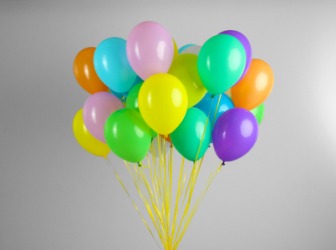 Helium is the gas making these balloons float.
noun
Gas is defined as an air-like substance that expands to fill the space it is in. It also refers to a substance used as fuel.

An example of gas is helium.
An example of gas is the fuel you put in your car to get it to move.
verb
The definition of gas is to expose someone to gas fumes, to treat chemically with gas or to give off gas fumes.

An example of gas is when you give someone nitrous oxide.
An example of gas is when people are exposed to mustard gas in a war setting.
An example of gas is when a car exhaust gives off fumes into the air.
---
gas
noun
pl.

gases

or

gas′ses
the fluid form of a substance in which it can expand indefinitely and completely fill its container; form that is neither liquid nor solid; vapor
any mixture of flammable gases used for lighting, heating, or cooking
any gas, as nitrous oxide, used as an anesthetic
any substance, as phosgene, intentionally dispersed through the atmosphere, as in war, to act as a poison, irritant, or asphyxiant
any gaseous substance formed by decaying or decomposing matter

a gaseous substance formed in the bowels, stomach, etc. during digestion
a condition resulting from indigestion in which such gas causes abdominal bloating, flatulence, etc.

Informal

gasoline

Informal

energy, power, force, drive, etc.: by game's end, the players had run out of gas

Slang

idle or boastful talk
something or someone that is very pleasing, exciting, amusing, etc.: the movie was a gas

Mining

a mixture of firedamp with air, that explodes if ignited
Origin of gas
ModL, altered by Van Helmont (1577-1644), Belgian chemist (with
g-
pronounced, as in Du, as a voiced fricative) from Classical Greek
chaos
, air (see chaos), term used by Paracelsus
transitive verb
gassed

,

gas′sing
to supply with gas
to subject to the action of gas
to injure or kill by gas, as in war

Slang

to thrill, delight, amuse greatly, etc.
to give off gas

Slang

to talk in an idle or boastful way
of, using, or operated by gas
gas up
Informal
to put gasoline into the tank of (a vehicle)
step on the gas
Informal

to press on the accelerator of an automobile

Slang

to hurry; move or act faster
---
gas
noun
pl.
gas·es,
or
gas·ses
a. The state of matter distinguished from the solid and liquid states by relatively low density and viscosity, relatively great expansion and contraction with changes in pressure and temperature, the ability to diffuse readily, and the spontaneous tendency to become distributed uniformly throughout any container.

b. A substance in the gaseous state.

A gaseous fuel, such as natural gas.
Gasoline.
The speed control of a gasoline engine. Used with the: Step on the gas.
A gaseous asphyxiant, irritant, or poison.
A gaseous anesthetic, such as nitrous oxide.

a. Flatulence.

b. Flatus.

Slang Idle or boastful talk.
Slang Someone or something exceptionally exciting or entertaining: The party was a gas.
verb
gassed, gas·sing, gas·es,
or
gas·ses
verb
transitive
To treat chemically with gas.
To overcome, disable, or kill with poisonous fumes.
verb
intransitive
To give off gas.
Slang To talk excessively.
Phrasal Verbs:
gas up
To supply a vehicle with gas or gasoline:
gas up a car; gassed up before the trip.
Origin of gas
Dutch
an occult physical principle supposed to be present in all bodies
alteration of
Greek
khaos
chaos, empty space
coined by Jan Baptista van Helmont (1577-1644), Flemish chemist
---
gas

Noun
(countable and uncountable, plural gases or gasses)
(uncountable, chemistry) Matter in a state intermediate between liquid and plasma that can be contained only if it is fully surrounded by a solid (in a bubble of liquid) (held together by gravitational pull); it can condense into a liquid, or can (rarely) become a solid directly.

A lot of gas had escaped from the cylinder.

(countable, chemistry) A chemical element or compound in such a state.

The atmosphere is made up of a number of different gases.

(uncountable) A flammable gaseous hydrocarbon or hydrocarbon mixture (typically predominantly methane) used as a fuel, e.g. for cooking, heating, electricity generation or as a fuel in internal combustion engines in vehicles.

Gas-fired power stations have largely replaced coal-burning ones.

(countable) A hob on a gas cooker.

She turned the gas on, put the potatoes on, then lit the oven.

(US) Methane or other waste gases trapped in one's belly as a result of the digestive process.

My tummy hurts so bad, I have gas.

(slang) A humorous or entertaining event or person.

He is such a gas!

(baseball) A fastball.

The closer threw him nothing but gas.
Verb
(third-person singular simple present gases, present participle gassing, simple past and past participle gassed)
To kill with poisonous gas.
To emit gas.

The battery cell was gassing.
Origin
From Dutch gas, a word coined by chemist Van Helmont. From Ancient Greek χάος (khaos, "chasm, void").
Verb
(third-person singular simple present gases or gasses, present participle gassing, simple past and past participle gassed)
(US) To give a vehicle more fuel in order to accelerate it.

The cops are coming. Gas it!

(US) To fill (a vehicle's fuel tank) with fuel
Adjective
(not comparable)
Usage notes
This is common in speech, but rarely used in writing.
Origin
Compare the slang usage of "a gas", above.
---