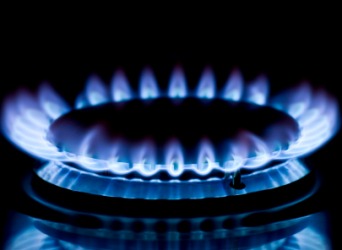 A stove burner fueled by natural gas.
noun
Natural gas is a fuel made of methane, mixed with up to 20% of other gasses such as ethane and other hydrocarbons.

Facts About Natural Gas

Natural gas is a popular choice for heating and electrical generation needs because of its lesser impact on the environment than other fossil fuels such as oil and kerosene.
Before natural gas can be used as a fuel, it must be processed in order to remove almost all of the other impurity gasses.

Natural gas processing can create by-products such as butane, propane and sometimes helium and oxygen.
The decomposition of natural materials can also produce methane that is the primary gas in natural gas.
Some waste treatment sites and landfills extract the methane from decomposition as a source of natural gas.
A new source of natural gas is from the gas trapped in the geologic matrix of shale. A process called fracking uses high pressure water and chemicals to break up the shale and extract the gas.
Natural gas can be stored in depleted gas reservoirs, aquifer reservoirs or salt domes. Liquefied natural gas (LNG) may be stored indefinitely in underground storage tanks.
Transmission of natural gas poses a challenge because of the low density of the gas. Pipelines to carry natural gas are limited to a distance of approximately 2,500 miles on land and half of that underwater. In the United States the current natural gas pipelines are almost at full capacity and that demand continues to increase.

An example of natural gas is the fuel used in a gas range stove.
---
natural gas
a mixture of gaseous hydrocarbons, chiefly methane, occurring naturally in the earth, often in association with petroleum deposits, and piped to cities, factories, etc., to be used as a fuel
---
natural gas
noun
Abbr.
NG
A mixture of hydrocarbon gases that occurs with petroleum deposits, principally methane together with varying quantities of ethane, propane, butane, and other gases, and is used as a fuel and in the manufacture of organic compounds.
---
natural-gas

Noun
(countable and uncountable, plural natural gases)
Adjective
natural-gas
attributive form of natural gas, noun.

Natural-gas prices
---
natural gas - Investment & Finance Definition
A commodity that is used to heat homes and businesses. Other uses include heating water, running air conditioning in the summer, and generating power. Industrial uses include serving as the base ingredient for products such as plastics, fertilizers, antifreeze, and fabrics. Futures and options contracts are traded on natural gas on the New York Mercantile Exchange (NYMEX). The Natural Gas Policy Act of 1978 deregulated the natural gas industry, which opened up the possibility for trading. In April 1990, NYMEX launched the world's first natural gas futures contract, and in October 1992, it launched options on natural gas futures. NYMEX contracts are based on natural gas that is deliverable to the Henry Hub trading complex in Louisiana.
---