noun
The definition of babble is words or sounds that are not understandable.

The first sounds that a baby makes are an example of babble.
verb
Babble is defined as to utter words or sounds without meaning or that are not understandable.

An example of babble is for a baby to make noises without producing any recognizable words.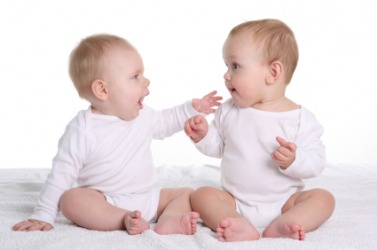 Two babies babble at each other.
---
babble definition by Webster's New World
intransitive verb
babbled, babbling
to make incoherent sounds, as a baby does; prattle
to talk foolishly or too much; blab
to make a low, bubbling sound, as a brook does when flowing over stones
Origin: Middle English bablen; akin to Norwegian bable, Swedish babbla, German babbeln, to prattle, Classical Latin balbutire, to stammer, Sanskrit balbuthah, stammerer: of echoic origin, originally
transitive verb
to say indistinctly or incoherently
to say foolishly or unadvisedly; blab
noun
confused, incoherent talk or vocal sounds
foolish or meaningless talk
a low, bubbling sound
jargon or wordy and confusing language related to or characteristic of a (specified) field, group, etc.: often used in nonce compounds: technobabble
Webster's New World College Dictionary Copyright © 2010 by Wiley Publishing, Inc., Cleveland, Ohio. Used by arrangement with John Wiley & Sons, Inc.
---
babble definition by American Heritage Dictionary
verb
bab·bled
,
bab·bling
,
bab·bles
verb
, intransitive
To utter a meaningless confusion of words or sounds: Babies babble before they can talk.
To talk foolishly or idly; chatter: "In 1977

[he]

was thought of as crazy because he was babbling about supply side" (Newt Gingrich).
To make a continuous low, murmuring sound, as flowing water.
verb
, transitive
To utter rapidly and indistinctly.
To blurt out impulsively; disclose without careful consideration.
noun
Inarticulate or meaningless talk or sounds.
Idle or foolish talk; chatter.
A continuous low, murmuring sound, as of flowing water.
Origin: Middle English babelen.