process

pro·cess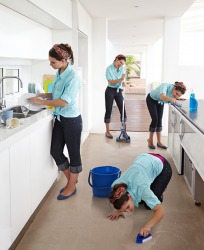 The process of cleaning a kitchen.
noun
The definition of a process is the actions happening while something is happening or being done.

An example of process is the steps taken by someone to clean a kitchen.
An example of process is a collection of action items to be decided on by government committees.
---
process
noun
pl.
pro′cess·es
the course of being done: chiefly in

in process

course (of time, etc.)
a continuing development involving many changes: the process of digestion
a particular method of doing something, generally involving a number of steps or operations
a man's hairstyle in which the hair is straightened by applying a chemical preparation and styled

Anat.

a projection or outgrowth from a larger structure, usually a bone: the alveolar process of the jaw

Biol.

an appendage or projecting part of an organism

Law

an action or suit
a writ or summons directing a defendant to appear in court or enforcing compliance with a court's orders
the total of such writs in any action or proceeding
Origin of process
Middle English from Old French
proces
from Classical Latin
processus
, past participle of
procedere:
see proceed
to prepare by or subject to a special process or method
to straighten and style (hair) by the use of a chemical preparation

Law

to prosecute
to serve a process on
prepared by a special treatment or process
of, made by, used in, or using photomechanical or photoengraving methods
in (the) process of
in or during the course of
to go in a procession
Origin of process
back-formation from procession
---
process
noun
pl.
proc·ess·es,
A series of actions, changes, or functions bringing about a result: the process of digestion; the process of obtaining a driver's license.
A series of operations performed in the making or treatment of a product: a manufacturing process; leather dyed during the tanning process.
Progress; passage: the process of time; events now in process.
Law

a. The use of the law courts and other fora as a means of seeking redress: the adversarial process; due process of law.

b. The set of actions and events that constitute a legal proceeding or a significant portion thereof: the trial process; the sentencing process.

Law A means of compelling a person to appear in court, especially a summons ordering a defendant to appear in court.
Biology An outgrowth of tissue; a projecting part: a bony process.
Any of various photomechanical or photoengraving methods.
Computers

a. A running software program or other computing operation.

b. A part of a running software program or other computing operation that does a single task.

See conk3.
transitive verb
proc·essed, proc·ess·ing, proc·ess·es
To put through the steps of a prescribed procedure: processing newly arrived immigrants; process an order.
To prepare, treat, or convert by subjecting to a special process: process ore to obtain minerals.
Computers To perform operations on (data).
To gain an understanding or acceptance of; come to terms with: processed the traumatic event in therapy.
To straighten (hair) by a chemical process; conk.
adjective
Prepared or converted by a special process: process cheese.
Made by or used in any of several photomechanical or photoengraving processes: a process print.
Origin of process
Middle English
proces
from
Old French
development
from
Latin
prōcessus
from past participle of
prōcēdere
to advance
; see
proceed
.
Usage Note: In recent decades there has been a tendency to pronounce the plural ending -es of processes as (-ēz), perhaps by analogy with words of Greek origin such as analysis and diagnosis. But process is not of Greek origin, and there is no etymological justification for this pronunciation of its plural. However, because this pronunciation is not uncommon even in educated speech, it is generally considered an acceptable variant, although it still strikes some listeners as a bungled affectation. • Although the pronunciation for process with a long (o), (prō′sĕs′), is more usual in British and Canadian English, it is an acceptable variant in American English.
intransitive verb
pro·cessed, pro·cess·ing, pro·cess·es
To move along in a procession: "The man in the panama hat offered his arm and … they processed into the dining room" ( Anita Brookner )
Origin of process
Back-formation from
procession
---
process

---
process - Computer Definition
(1) To manipulate data in the computer. The computer is said to be processing no matter what action it is taking upon the data; whether the data are actually being updated in a database or just being displayed on screen. In order to evaluate a computer system's performance, the time it takes to process data internally is often analyzed separately from the time it takes to get it in and out of the computer. The I/O (input/output) is usually more time consuming than the processing. For an explanation of how the computer processes data, see "Processing" under the term computer. See also process technology.
(2) Software running in the computer. When a computer is booted, numerous processes are started. Some are parts of the operating system, while others are applications that have been designated to run at startup. In a Windows computer, pressing Ctrl-Alt-Del launches the Task Manager, which displays all running processes. In the Mac, the Activity Monitor in the Applications/Utilities folder shows the processes. See Windows processes.
---
process - Legal Definition
n
A summons in writing to compel the appearance or response of a person before a court; the proceedings in a civil or a criminal case; the procedure by which a disobedient or recalcitrant defendant is made to plead.
Patent law, the method used to produce a thing or result. 
abuse of process
Improper use of process after it has been issued; the wrong is not in the obtaining of process, but in the manner in which it is used. 
---