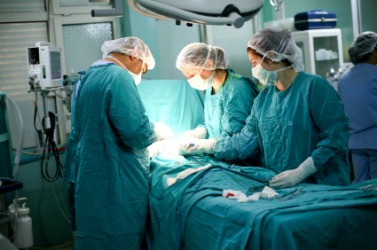 A medical team performs an operation.
noun
The definition of an operation is the process of working or functioning, or a surgical procedure.

An example of an operation is how a light switch turns on and off.
An example of an operation is someone getting their appendix taken out.
---
operation
the act, process, or method of operating
the condition of being in action or at work
a process or action that is part of a series in some work

any movement or series of movements made in carrying out strategic military plans
[pl.] a center where such activities are monitored or supervised, as at an air base
any specific plan, project, venture, etc.: often in nonce compounds: our neighborhood's Operation Cleanup

any surgical procedure performed, usually with the aid of instruments, to remedy a physical ailment or defect

Math.

any process, as addition, division, etc., involving a change or transformation in a quantity
Origin of operation
Middle English
operacion
from Old French from Classical Latin
operatio
in operation
in the act or process of making, working, etc.
having an influence or effect; in force
---
operation
noun
The act or process of operating or functioning.
The state of being operative or functional: a factory in operation.
A process or series of acts involved in a particular form of work: the operation of building a house.
An instance or method of efficient, productive activity: That restaurant is quite an operation.
An unethical or illegal business: a fencing operation for stolen goods.
Medicine A surgical procedure for remedying an injury, ailment, defect, or dysfunction.
Mathematics A process or action, such as addition, substitution, transposition, or differentiation, performed in a specified sequence and in accordance with specific rules.
A logical operation.
Computers An action resulting from a single instruction.

a. A military or naval action, campaign, or mission.

b. operations The headquarters or center from which a military action, flights into and out of an airfield, or other activities are controlled.

operations The division of an organization that carries out the major planning and operating functions.
---
operation

Noun
(plural operations)
The method by which a device performs its function.

It is dangerous to look at the beam of a laser while it is in operation.

The act or process of operating; agency; the exertion of power, physical, mechanical, or moral.
A planned undertaking.

The police ran an operation to get vagrants off the streets.
The Katrina relief operation was considered botched.

A business or organization.

We run our operation from a storefront.
They run a multinational produce-supply operation.

(military) a military campaign (e.g. Operation Desert Storm)
---
operation - Computer Definition
---