server

serv·er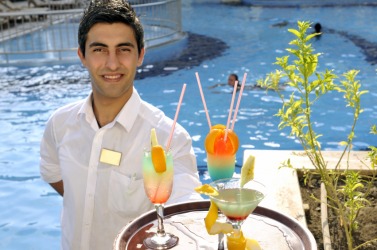 A server brings a tray of drinks.
noun
The definition of a server is a person whose responsibility it is to provide assistance to another person, or a centralized computer system or program that holds data to which multiple users can connect.

A waiter at a restaurant who brings you your meal is an example of a server.
A central computer at your job that you and all of the other employees can log into and save files on is an example of a server.
---
server
a person who serves, as a waiter, a player who serves the ball, or an assistant to the celebrant at Mass
a thing used in serving, as a tray, cart, etc.

Comput.

within a network (sense ), a computer that provides other computers access as to shared peripherals, programs, or databases
---
server
noun
a. One who serves food and drink.

b. Something, such as a tray, that is used in serving food and drink.

An altar server.
Law One who serves a legal process, such as a summons or court order.
Sports The player who serves, as in court games.
Computers

a. A file server.

b. A computer that processes requests for HTML and other documents that are components of webpages.
---
server

---
server - Computer Definition

In a client/server network architecture, a machine designated as to serve the needs of client machines.A server can be a mainframe, minicomputer, or personal computer that operates in a time-sharing mode to provide for the needs of many clients for application and file storage, network administration, security, and other critical functions. See also architecture, client, client/server, and time-sharing.
---

A computer program carrying out some task on behalf of a user, such as delivering a Web page or sending email messages. Computers on which these server applications are found are also called servers.
Servers have often been the focus of computer security attacks. For example, on March 8, 2005, a security researcher announced in an advisory that Microsoft Corporation's newest operating systems are vulnerable to Denial of Service (DoS) attacks. In particular, researcher Dejan Lavaja said that Windows Server 2003 and XP Service Pack 2 (with the Windows Firewall not on) could suffer from LAND attacks—remote DoS incidents created when a packet is sent to a computer on which the source host/port is the same as the destination host/port. Using reverse-engineering tools, this researcher discovered that just one LAND packet transmitted to a file server could result in "frozen" Windows Explorers on all the workstations connected to that server. In fact, warned Lavaja, because of this vulnerability the network could totally collapse.
Soon thereafter, however, a spokesperson for the Microsoft Corporation said that although the vulnerability exists, the adverse impact of such an attack would result only in the computer's running sluggishly for a brief period. Users were cautioned to filter traffic with the same IP source and destination address.
See Also: Denial of Service (DoS); Electronic Mail or Email; Host; Node; Packet.
Naraine, R. Old-School DoS Attack Can Penetrate XP SP2. [Online, March 8, 2005.] Ziff Davis Publishing Holdings Inc. Website. http://www.eweek.com/article2/ 0,1759,1773958,00.asp.
---
A computer system in a network that is shared by multiple users. Servers come in all sizes from x86-based PCs to IBM mainframes. A server may have a keyboard, monitor and mouse directly attached, or one keyboard, monitor and mouse may connect to any number of servers via a switch (see KVM switch). In datacenters with hundreds and thousands of servers residing in equipment racks, all access is via the network. See server farm, blade server and rack mounted. A User's Machine Can Be a Server Stand-alone PCs and Macs can also function as a server to other users on the network even though they serve as a single workstation to one user (see peer-to-peer). In such cases, specific folders are typically configured for sharing rather than the entire hard drive. Servers Can Be Software Only The term "server" may refer to both the hardware and software (the entire computer system) or just the software that performs the service. For example, a "Web server" may refer to a dedicated computer running Web server software or to Web server software running with other applications. Servers are classified by their purpose, and the following servers are defined in this encyclopedia. application server audio server database server fax server file server intranet server mail server media server merchant server modem server network access server print server proxy server remote access server server appliance streaming server telephony server terminal server Web server
Server+
---