noun
The definition of a waiter is a person who serves your table at a restaurant.

A man who takes your order and brings you drinks and food at a restaurant is an example of a waiter.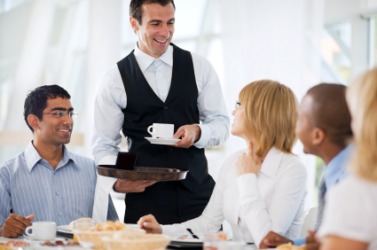 A waiter brings coffee to his customers.
---
waiter
noun
a person who waits or awaits
a man who waits on tables, as in a restaurant
a tray for carrying dishes; salver
Origin of waiter
Middle English
waitere
, watchman
---
waiter
---
waiter
Origin
Late 14th century, "attendant, watchman," agent noun from the verb wait. Sense of "servant who waits at tables" is from late 15th century, originally in reference to household servants; in reference to inns, eating houses, etc., it is attested from 1660s. Feminine form waitress first recorded 1834.
---