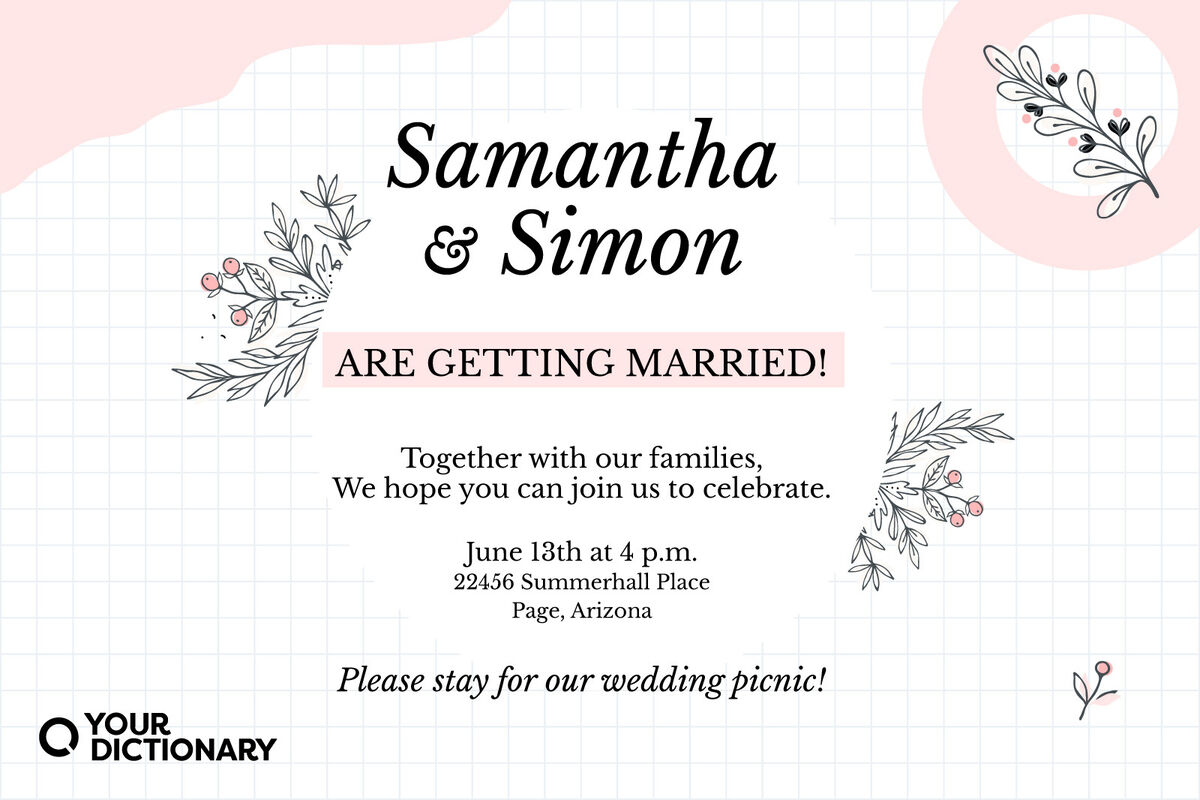 A wedding should represent the couple getting married and their relationship. While many people enjoy the formalities of a traditional wedding, others may prefer something more informal and unique. Luckily, you can start setting the proper tone of your wedding much earlier than the date itself — in fact, just the wording on your invitations can let people know what type of wedding you'll be hosting.
Informal Wedding Invitation Examples
If you want to keep things simple and informal for your big day, set the tone with unique wedding invitation wording that doesn't sound stuffy. You'll notice informal touches like dates written as numbers, hosts' names omitted, and more. These examples are perfect for backyard weddings, destination events, or even second weddings.
Get right to the point without cute language by saying, "We're getting married."
Samantha & Simon
Are getting married!
Together with our families,
We hope you can join us to celebrate.
June 13th at 4 p.m.
22456 Summerhall Place
Page, Arizona
Please stay for our wedding picnic!
For weddings that aren't large formal occasions, a simple "Please join us" works nicely.
Please join us to celebrate the wedding of
Sammi Black & Simon Williams
Saturday, June 13th
At four o'clock in the afternoon
Minnesota Landscape Arboretum
Chaska, Minnesota
Followed by cocktails
Those who like traditional touches to nontraditional weddings might prefer wording about "Tying the knot."
Samantha & Simon
Are tying the knot!
Please join us in celebrating
Saturday, June 13th
At 4pm
The Seaside Resort
Sarasota, Florida
Dinner and drinks to follow
Even these examples might seem a bit wordy for the more minimalist couples. Try something simpler:
Samantha
&
Simon
Please join us
Saturday, June 13
4 pm
Queen of the Seas
Formal Wording Examples for Modern Wedding Invitations
Just because a wedding is formal doesn't mean you're locked into old-fashioned traditions. For a more formal touch that still feels modern, wording can include the hosts' names, full names for the couple, and spelled-out dates and times.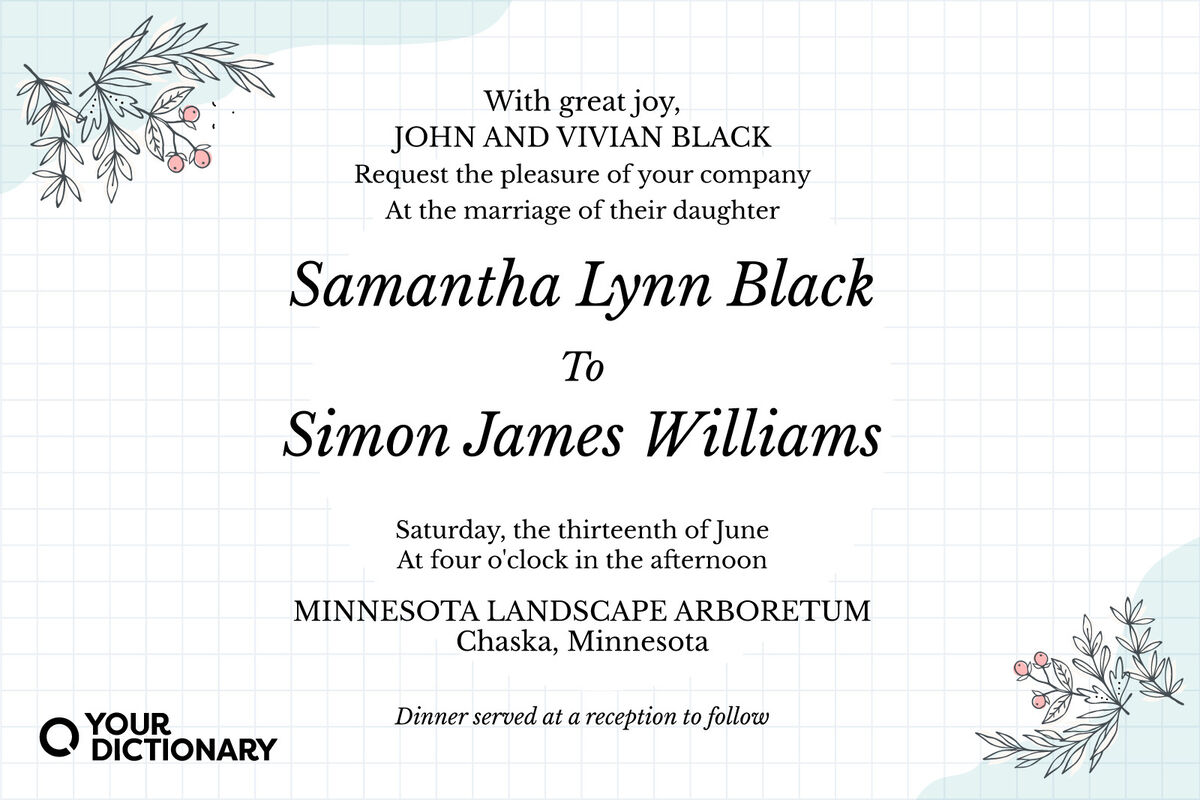 Bring the happiness of your wedding day right to the page by starting "With great joy."
With great joy,
John and Vivian Black
Request the pleasure of your company
At the marriage of their daughter
Samantha Lynn Black
To
Simon James Williams
Saturday, the thirteenth of June
At four o'clock in the afternoon
Minnesota Landscape Arboretum
Chaska, Minnesota
Dinner served at a reception to follow
Are both families hosting the wedding together? If so, try "Invite you to celebrate."
John & Vivian Black
&
Aaron & Aurora Williams
Invite you to celebrate
The wedding of their children
Samantha Lynn Black
&
Simon James Williams
Saturday, the thirteenth of June
At four o'clock in the afternoon
The High Museum of Art
Atlanta, Georgia
Black tie reception to follow
Adding the couple's parents' names may feel out of touch for some people. If you want a traditional invitation without parents' names, try:
Samantha Lynn Black
&
Simon James Williams
Request the pleasure of your company
Saturday, the thirteenth of June, two thousand twenty
At four o'clock in the afternoon
Missouri Botanical Garden
St. Louis, Missouri
Reception to follow
Together With Their Families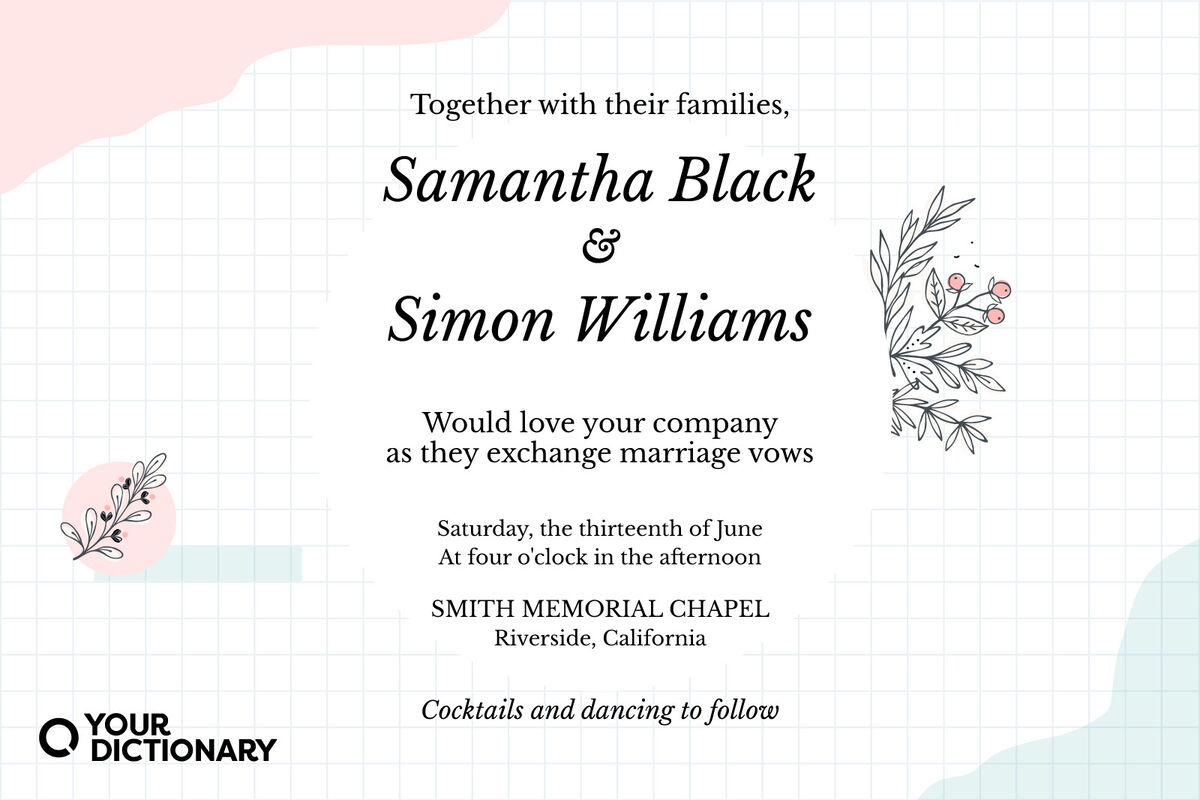 Using more inclusive wording can ensure that every type of family is included (and can save your word count).
Together with their families,
Samantha Black & Simon Williams
Would love your company as they exchange marriage vows
Saturday, the thirteenth of June
At four o'clock in the afternoon
Smith Memorial Chapel
Riverside, California
Cocktails and dancing to follow
What to Include in a Modern Wedding Invitation
Formatting is more flexible for a modern wedding invitation, but you should still follow the proper rules of etiquette. Just like your save-the-date cards, your invitation should give guests the information they need to plan for your event.
Decide Whether to Include the Hosts
While a traditional invitation includes the names of the hosts, it's up to you whether you include them in a modern invitation. If you do plan to include the hosts, keep these tips in mind:
Skip the Mr. and Mrs. for a more modern touch and simply use the full names.
If both sets of parents are contributing, list everyone on the invitation.
For weddings hosted by the bride and groom and their parents, use the line "together with their families" or "together with their parents."
Generally, the bride's parents are listed first.
There are lots of ways to phrase it, but your invitation should include a clear request for guests to attend. Often, this is included after the names of the hosts. In the case of informal invitations, you could start off with this line. You can even add a quote or wedding saying to supplement the simple request for company.
Include the Names of the Couple
You also need to include the names of the people getting married. In a modern invitation, there are lots of ways you can format the names. Keep these tips in mind:
The bride's name usually goes first.
Informal invitations may just include the first names, but more formal ones should include full names.
Modern invitations do not usually include the titles of the bride and groom.
For a same-sex wedding, use alphabetical order to arrange the names of the couple.
Provide the Date, Time and Place
At minimum, guests need to know when and where to show up for the wedding. Include the date and time, but your formality level can dictate whether you spell out the numbers or write the numerals.
For place, you should include the information the guest will need to get there, such as an address or the name of a building. Spell out the state rather than using an abbreviation. Most invitations do not include a zip code.
Add Reception or Party Information
Near the bottom of the invitation wording, include the details about the reception or party that may follow. Give guests a clue about whether to expect dinner, what to wear, how formal it might be, and any other helpful information. If you have a dress code, such as black tie, be sure to include that here.