parasite

par·a·site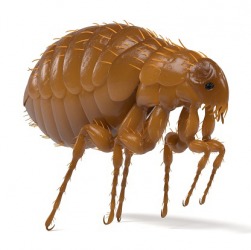 A flea is a parasite.
noun
The definition of a parasite is a person or organism that takes from or exploits others, giving nothing in return.

An example of a parasite is tapeworm or ringworm.
An example of a parasite is a person you know who is continually borrowing money and asking things of you without giving anything back.
---
parasite
a person, as in ancient Greece, who flattered and amused the host in return for free meals
a person who lives at the expense of another or others without making any useful contribution or return; hanger-on

Biol.

a plant or animal that lives on or in an organism of another species from which it derives sustenance or protection without benefit to, and usually with harmful effects on, the host
Origin of parasite
Classical Latin
parasitus
from Classical Greek
parasitos,
one who eats at the table of another, parasite, toady from
para-,
beside (see para-) +
sitos,
food, grain
---
parasite
noun
Biology An organism that lives and feeds on or in an organism of a different species and causes harm to its host.

a. One who habitually takes advantage of the generosity of others without making any useful return.

b. One who lives off and flatters the rich; a sycophant.

A professional dinner guest, especially in ancient Greece.
Origin of parasite
Latin
parasītus
a person who lives by amusing the rich
from
Greek
parasītos
person who eats at someone else's table, parasite
para-
beside
; see
para-
1
.
sītos
grain, food
---
parasite

---
parasite - Computer Definition
Unsolicited software that is installed in a computer without users realizing it. There are many different types. Parasites can report Web browsing habits to a marketing company over the Internet (see spyware) or change browser settings to point to a specific site. They can redirect search engine results to a site that sells a related product, and they can cause premium services to be dialed up. Read the License Agreement Parasites are often installed with freeware, and the license agreement may actually say so, but hardly anyone reads it. Sometimes, users can opt out of installing the parasite and install only what they wanted in the first place. Be sure security settings are set to medium at least, and never click "Yes" to any dialog that asks "do you want to run" or "execute" something unless you know what that something is. ActiveX controls on the Web cannot only install parasites but viruses as well. Parasites often do not include an uninstall function and may not be easily removed, although anti-parasite programs can detect and remove them (see spyware blocker).
---