horde

horde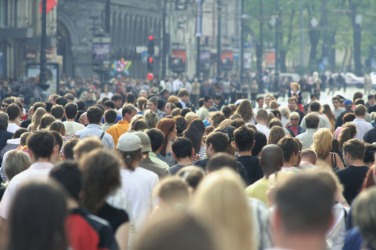 A horde of people.
noun
The definition of a horde is a large, moving group of people.

The huge crowd leaving the Super Bowl is an example of a horde of people.
---
horde
a nomadic tribe or clan of Mongols
any wandering tribe or group
a large, moving crowd or throng; swarm
Origin of horde
French from Ger, earlier
horda
from Polish from Turkish
ord?
, a camp from Tatar
urdu
, a camp, literally , something erected from
urmak
, to pitch (a camp)
intransitive verb
hord′ed

,

hord′ing
to form or gather in a horde
---
horde
noun
A large group or crowd; a swarm: a horde of mosquitoes. See Synonyms at crowd1.

a. A nomadic Mongol or Turkic tribe.

b. A nomadic tribe or group.
Origin of horde
Ultimately
(
via
German
Horde
) (Polish
horda
) (
and kindred words in other languages of central Europe, with initial
h-
, of obscure origin
)
from
Ukrainian
orda
tribe or army of Mongols and Turkic peoples (as the Golden Horde)
from
North-Western Turkic
ordï
encampment, residence, court
from
Old Turkic
ordu
---
horde

Usage notes
Sometimes confused with hoard.
Origin
Recorded in English since 1555. From Middle French horde, from German Horde, from Polish horda, from Russian орда (ordá), which may come directly from Mongol or from West Turkic (compare Tatar urda, 'horde', Turkish ordu, 'camp, army'), from Mongolian orda, ordu, 'court, camp, horde'; akin to Kalmuk orda.
---