legion

le·gion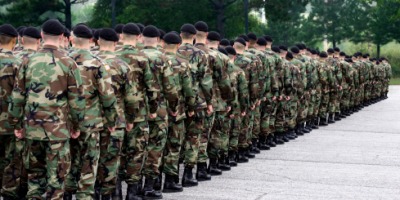 A legion is one thousand troops.
noun
The definition of a legion is an army or other large number of people.

An example of legion is one thousand US Army troops.
An example of legion is hundreds of fans showing up to an author's book signing.
---
legion
Rom. History

a military division varying at times from 3,000 to 6,000 foot soldiers, with additional cavalrymen
a large group of soldiers; army
a large number; multitude: a legion of admirers
[L-] American Legion, Foreign Legion, etc.
Origin of legion
Old French from Classical Latin
legio
from
legere
, to choose: see logic
numerous; many: used in the predicate: her honors were legion
---
legion
noun
The major unit of the Roman army consisting of 3,000 to 6,000 infantry troops and 100 to 200 cavalry troops.
A large military unit trained for combat; an army.
A large number; a multitude. See Synonyms at multitude.
often Legion A national organization of former members of the armed forces.
adjective
Constituting a large number; multitudinous: Her admirers were legion. His mistakes were legion.
Origin of legion
Middle English
legioun
from
Old French
legion
from
Latin
legiō
legiōn-
from
legere
to gather
; see
leg-
in Indo-European roots.
---
legion

---