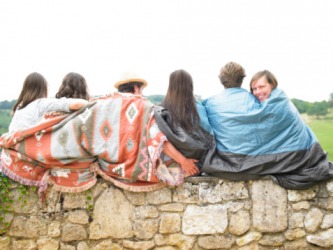 The phalanx of friends help them to stay warm.
noun
The definition of a phalanx is a community or group of people who are close or united for a purpose.

An example of a phalanx is a group of friends huddled together for warmth.
---
phalanx
noun
pl.
an ancient military formation of infantry in close, deep ranks with shields overlapping and spears extended
a massed group of individuals; compact body
a group of individuals united for a common purpose
the people forming a phalanstery

Anat.

any of the bones forming the fingers or toes
Origin of phalanx
Classical Latin from Gr, line of battle, bone between fingers, origin, originally , log from Indo-European base an unverified form
bhel-,
log from source balk
---
phalanx
noun
pl.
pha·lanx·es,
or
pha·lan·ges
A compact or close-knit body of people: "formed a solid phalanx in defense of the Constitution and Protestant religion" ( G.M. Trevelyan )
A formation of infantry carrying overlapping shields and long spears, developed by Philip II of Macedon and used by Alexander the Great.
pl. phalanges Anatomy A bone of a finger or toe. Also called phalange .
See phalanstery.
Origin of phalanx
Latin
phalanx
phalang-
from
Greek
---
phalanx

Noun
(plural phalanxes or phalanges)
(plural phalanxes) a large group of people, animals or things, compact or closely massed, or tightly knit and united in common purpose.
(historical, plural phalanxes) An ancient Greek and Macedonian military unit that consisted of several ranks and files (lines) of soldiers in close array with joined shields and long spears.
(historical sociology) A Fourierite utopian community; a phalanstery.
Origin
From Ancient Greek φάλαγξ (phalanks, "battle order, array").
---