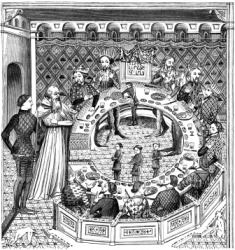 The story of King Arthur is an example of a legend.
noun
The definition of a legend is a story handed down through generations which is believed to be historical.

An example of legend is King Arthur.
---
legend
a story handed down for generations among a people and popularly believed to have a historical basis, although not verifiable
all such stories belonging to a particular group of people: famous in Irish legend

a notable person whose deeds or exploits are much talked about in his or her own time
the stories of his or her exploits

an inscription on a coin, coat of arms, etc.
a title, brief description, or key accompanying an illustration or map
Origin of legend
Middle English
legende
from Old French from Medieval Latin
legenda
, things to read, neuter plural of Classical Latin
legendus
, gerund, gerundive of
legere
, to read: see logic
---
legend
noun
a. An unverified story handed down from earlier times, especially one popularly believed to be historical.

b. A body or collection of such stories.

One that inspires legends or achieves legendary fame: She is a legend in her own time.

a. An inscription or title on an object, such as a coin.

b. An explanatory caption accompanying an illustration.

c. An explanatory table or list of the symbols appearing on a map or chart.
Origin of legend
Middle English
from
Old French
legende
from
Medieval Latin
(lēctiō) legenda
(lesson) to be read
from
Latin
feminine gerundive of
legere
to read
; see
leg-
in Indo-European roots.
---
legend

Noun
(plural legends)
A story of unknown origin describing plausible but extraordinary past events.

The legend of Troy was discovered to have historical basis.

A story in which a kernel of truth is embellished to an unlikely degree.

The 1984 Rose Bowl prank has spawned many legends. Here's the real story.

A leading protagonist in a historical legend.

Achilles is a legend in Greek culture.

A person of extraordinary accomplishment.

Michael Jordan stands as a legend in basketball.

A key to the symbols and color codes on a map, chart, etc.

According to the legend on the map, that building is a school.

An inscription, motto, or title, especially one surrounding the field in a medal or coin, or placed upon a heraldic shield or beneath an engraving or illustration.
A fabricated backstory for a spy, with associated documents and records; a cover story.

According to his legend, he once worked for the Red Cross, spreading humanitarian aid in Africa.

(UK, Ireland, Australia, New Zealand, colloquial, slang) A cool, nice or helpful person, especially one who is male.

I've lost my pen! ""Here mate, borrow mine. ""You legend.
Verb
(third-person singular simple present legends, present participle legending, simple past and past participle legended)
---