tale

tale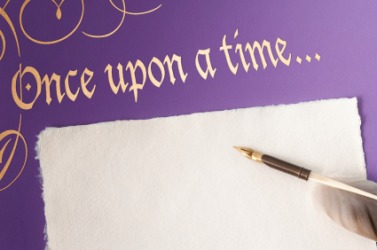 Many a tale begins with "Once upon a time".
noun
Tale means a lie.

An example of a tale is a child's excuse about their missing homework.

The definition of a tale is a story, either real or fiction, that is told.

An example of a tale is one of Aesop's Fables.
---
tale
something told or related; relation or recital of happenings

a story or account of true, legendary, or fictitious events; narrative
a literary composition in narrative form, often, specif., an unsophisticated, somewhat digressive one

a piece of gossip
a falsehood; lie

Archaic

a tally; count

Obs.

the act of telling
Origin of tale
Middle English from Old English
talu,
speech, number, akin to German
zahl,
number, Dutch
taal,
speech from Indo-European base an unverified form
del-,
to aim, reckon, trick from source Classical Greek
dolos,
Classical Latin
dolus,
guile, artifice
---
tale
noun
A recital of events or happenings; a report or revelation: told us a long tale of woe.
A malicious story, piece of gossip, or petty complaint.
A deliberate lie; a falsehood.
A narrative of real or imaginary events; a story.
Archaic A tally or reckoning; a total.
Origin of tale
Middle English
from
Old English
talu
; see
del-
2
in Indo-European roots.
---
tale

---