yarn

yarn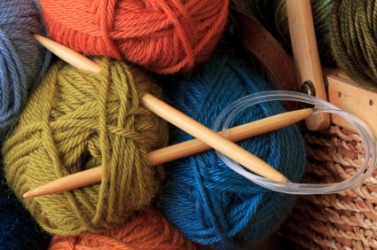 Knitting needles tucked into balls of yarn.
noun
Yarn is a strand of threads used for sewing, knitting or weaving, or a tale of almost unbelievable entertainment or adventure.

An example of yarn is the material used for weaving a blanket.
An example of a yarn is a tale about a great journey up a mountain.
---
yarn
any fiber, as wool, silk, flax, cotton, nylon, glass, etc., spun into strands for weaving, knitting, or making thread
coarse fibers woven into strands for rope-making
a tale or story, esp. one that seems exaggerated or hard to believe
Origin of yarn
Middle English from Old English
gearn
, yarn, akin to German
garn
from Indo-European base an unverified form
?her-
, intestine from source Classical Latin
haru-spex
, soothsayer, literally , intestine-seer, Classical Greek
chord?
---
yarn
noun
a. A continuous strand of twisted threads of natural or synthetic fibers, such as wool or nylon, used in weaving or knitting.

b. A similar strand of other materials such as glass or plastic.

Informal A long, often elaborate narrative of real or fictitious adventures; an entertaining tale.
intransitive verb
yarned, yarn·ing, yarns
Informal
To tell an entertaining tale or series of tales.
Origin of yarn
Middle English
from
Old English
gearn
; see
gherə-
in Indo-European roots.
---
yarn

Noun
(countable and uncountable, plural yarns)
(nautical) Bundles of fibers twisted together, and which in turn are twisted in bundles to form strands, which in their turn are twisted or plaited to form rope.
(countable) A story, a tale, especially one that is incredible.
Verb
(third-person singular simple present yarns, present participle yarning, simple past and past participle yarned)
to tell a story
Origin
From Middle English yarn, from the Old English Ä¡earn ("yarn, spun wool"), from Proto-Germanic *garnÄ… ("yarn"), from Proto-Indo-European *ǵʰorn-, *ǵʰer- ("tharm, guts, intestines"). Akin to West Frisian jern, Dutch garen ("yarn"), German Garn ("yarn"), Danish garn, Swedish garn ("yarn, thread"), Icelandic garn ("yarn"), Latin hernia ("rupture"), Ancient Greek χορδή (chordḗ, "string"), Sanskrit हिर (hira, "band"). Cf. also the obsolete doublet garn.
---