narration

nar·ra·tion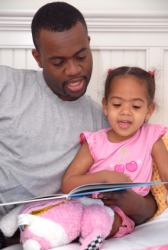 Daddy provides the narration for his child's bedtime story.
noun
The definition of a narration is reading a story or telling a story with images.

An example of narration is a parent reading a bed time story to their child.
---
narration
the act or process of narrating; the telling of a story or of happenings
a story or account; narrative
writing or speaking that narrates, as history, biography, or fiction
Origin of narration
Middle English
narracion
from Old French from Classical Latin
narratio
---
narration
noun
The act, process, or an instance of narrating.
Narrated material.
Related Forms:
---
narration

---