report

re·port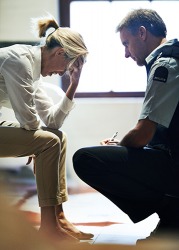 Even though Sylvia was still emotionally shaken, she was willing to give the police officer a report of the incident.
noun
Report is defined as a collection of information about something or rumors or gossip that is being spread.

An example of report is a paper a student writes about a book.
An example of report is a summary of findings provided after a committee investigates a situation.
An example of report is a teacher's description of student behavior at a conference with his parents.
An example of report is when someone says they heard from a friend of a friend that a UFO was spotted.
verb
The definition of report is giving an account of something or repeating something you've heard.

An example of report is when a person calls the police to tell them about a crime.
An example of report is when a journalist goes to the Middle East to cover a war.
---
report
to give an account of, often at regular intervals; give information about (something seen, done, etc.); recount
to carry and repeat (a message, etc.)
to write an account of for presentation to others or for publication, as in a newspaper
to make known the presence, approach, etc. of: to report strange aircraft overhead
to give a formal statement or official account of; announce formally (the results of an investigation, etc.)
to present or return (something referred for study, action, etc.) with the conclusions reached or recommendations made: often with out: the committee reported the bill out
to make a charge about (something) or against (someone) to a person in authority: to report a rudeness, to report a thief
Origin of report
Middle English
reporten
from Old French
reporter
, to carry back from Classical Latin
reportare
from
re-,
back +
portare,
to carry: see port
to make a report
to work as a reporter
to present oneself or make one's presence known: to report for duty
to be responsible or subordinate (to a superior)
rumor; gossip; common talk: report has it that you will resign
reputation: a person of good report
a statement or account brought in and presented, often for publication: a report of a battle
a formal or official presentation of facts or of the record of some proceedings, an investigation, etc.
a loud, resounding noise, esp. one made by an explosion

Law

a formal account or record of a court case, decision, etc.
[pl.] the official records, published periodically, of court cases, decisions, etc.
Origin of report
ME < OFr < the v.
---
report
noun
a. A formal account of the proceedings or transactions of a group: a company's annual report.

b. A spoken or written account of an event, usually presented in detail: a news report; reports of children getting food poisoning.

A person who is accountable or subordinate to another person within a company or organization: a manager with two reports.
reports Law Bound volumes containing the published court opinions in legal cases, intended to provide a reference for precedents in subsequent cases.

a. Reputation; repute: We know him only by report.

b. Archaic Common talk; rumor or gossip.

An explosive noise: the report of a rifle.
verb
re·port·ed, re·port·ing, re·ports
verb
transitive
a. To make or present an official or formal account of: The study reported a decline in heart disease. The audit reports that the company lost money.

b. To write or provide an account or summation of for publication or broadcast: report the news.

a. To tell about the presence or occurrence of: A burglar was reported in the area.

b.

To relate or tell, especially from personal experience:

They reported that fallen tree limbs were blocking the road.

See Synonyms at

describe

.

To submit or relate the results of considerations concerning: The committee reported the bill.
To carry back and repeat to another: reported the rumor of a strike.
To complain about or denounce: reported the students to the principal.
verb
intransitive
To make a report: Would you please report on what happened?
To serve as a reporter for a publication, broadcasting company, or other news media.
To present oneself: report for duty.
To be accountable or subordinate to someone: She reports directly to the board of directors.
Phrasal Verbs:
report out
To return after deliberation to a legislative body for action:
The committee reported the new tax bill out.
Origin of report
Middle English
from
Old French
from
reporter
to report
from
Latin
reportāre
re-
re-
portāre
to carry
; see
per-
2
in Indo-European roots.
Related Forms:
---
report

---
report - Computer Definition
A printed or microfilmed collection of facts and figures with page numbers and page headings. See report writer and query.
---