noun
The definition of a name is a word or phrase that labels a person, place or thing.

An example of name is Paul.
verb
Name is defined as to give a title to a person, place or thing.

An example of name is for parents to choose to call their newborn Adam.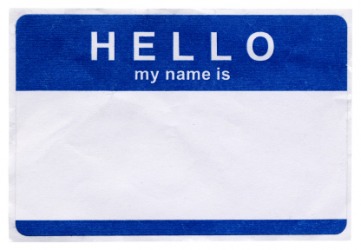 You would write your name on this tag.
---
name definition by Webster's New World
noun
a word or phrase by which a person, thing, or class of things is known, called, or spoken to or of; appellation; title
a word or words expressing some quality considered characteristic or descriptive of a person or thing, often showing approval or disapproval; epithet
the sacred designation of a deity: His ineffable name

fame, reputation, or character: a good name
good reputation

a family or clan: the last of his name
appearance only, not reality; semblance: chief in name only
a distinguished or famous person: the greatest name in science
Origin: Middle English ; from Old English nama, akin to German name ; from Indo-European base an unverified form (o)nomṇ from source Classical Latin nomen, Classical Greek onoma, onyma
adjective
☆ having a good reputation; well-known: a name brand
carrying a name: a name tag
---
name definition by American Heritage Dictionary
noun
A word or words by which an entity is designated and distinguished from others.
A word or group of words used to describe or evaluate, often disparagingly.
Representation or repute, as opposed to reality: a democracy in name, a police state in fact.

a. A reputation: has a bad name.

b. A distinguished reputation: made a name for himself as a drummer.

An illustrious or outstanding person: joined several famous names for a photograph. See Synonyms at celebrity.
transitive verb
named
named
,
nam·ing
,
names
To give a name to: named the child after both grandparents.
To mention, specify, or cite by name: named the primary colors.
To call by an epithet: named them all cowards.
To nominate for or appoint to a duty, an office, or an honor. See Synonyms at appoint.
To specify or fix: We need to name the time for our meeting.
adjective
Informal
Well-known by a name: a name performer.
Origin: Middle English, from Old English nama; see nō̆-men- in Indo-European roots.
Related Forms:
namˈa·ble, nameˈa·ble

adjective
The American Heritage® Dictionary of the English Language, 4th edition Copyright © 2010 by Houghton Mifflin Harcourt Publishing Company. Published by Houghton Mifflin Harcourt Publishing Company. All rights reserved.
---
name - Computer Definition
Pronounced dot name.The Internet generic Top Level Domain (gTLD) reserved exclusively for individuals.This is an unsponsored domain. See also Internet, gTLD, and unsponsored domain.
A top-level Internet domain used for personal use; for example, harry.potter.name. This is known as a "third-level domain name," because the last name (second level) and first name (third level) are used. The dot-name name was introduced in late 2000. See Internet domain name.
Computer Desktop EncyclopediaTHIS DEFINITION IS FOR PERSONAL USE ONLYAll other reproduction is strictly prohibited without permission from the publisher.© 1981-2014 The Computer Language Company Inc. All rights reserved.
---
name - Phrases/Idioms
call names
to speak of or to in an abusive manner
in the name of
in appeal or reference to
by the authority of; as the representative of
as belonging to
know only by name
to be familiar with the name of but not know personally
name names
to identify specific persons, esp. as doing wrong
in the name of
By the authority of:

Open up in the name of the law!

For the reason of; using as a reason:

grisly experiments performed in the name of science.
to (one's) name
Belonging to one:
I don't have a hat to my name.