bark

bark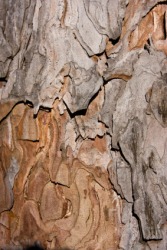 Tree bark.
noun
The definition of bark is the protective skin of trees and plants that produces wood.

The covering on the outside of a tree is an example of bark.

A bark is defined as a short loud sound made by a dog or some other animals, or is any sound that resembles the yipping sound of a dog.

A dog saying "woof" is an example of a bark.
verb
To bark means to woof or to make another sound like a dog makes.

An example of bark is when a dog looks up at the moon and goes "woof."
---
bark
the outside covering of the stems and roots of trees and woody plants
some kinds of this matter used in tanning, dyeing, etc.
cinchona
Origin of bark
Middle English from Old Norse
b?rkr
, akin to Middle Low German
borke
to treat with a bark infusion, as in leather tanning
to take the bark off; specif., to girdle (a tree)

Informal

to scrape some skin off: to bark one's shin
to make the characteristic sharp, abrupt cry of a dog
to make a sound like this: the engine barked
to speak or shout sharply; snap

Informal

to cough

Slang

to advertise a show, sale, etc. by shouting about it in public
Origin of bark
Middle English
berken
from Old English
beorcan,
akin to Old Norse
berkja
, of echoic origin, originally
to say or advertise with a bark or shout
the sharp, abrupt sound made by a dog
any sharp, abrupt sound or utterance like this
bark up the wrong tree
to misdirect one's attack, energies, etc.
Old Poet.

any boat, esp. a small sailing boat
a sailing vessel with its two forward masts square-rigged and its rear mast rigged fore and aft
Origin of bark
Middle English
barke,
probably via Portuguese or Medieval Latin
barca
(from source Old French
barque
) from LL, small boat: see barge
---
bark
noun
The harsh sound uttered by a dog.
A sound, such as a cough, that is similar to a dog's bark.
verb
barked, bark·ing, barks
verb
intransitive
To utter a bark.
To make a sound similar to a bark: "The birds bark softly, sounding almost like young pups" ( Charleston SC News and Courier )
To speak sharply; snap: "a spot where you can just drop in … without anyone's barking at you for failing to plan ahead" ( Andy Birsh )
To work as a barker, as at a carnival.
verb
transitive
To utter in a loud, harsh voice: The quarterback barked out the signals.
Origin of bark
From
Middle English
berken
to bark
from
Old English
beorcan
noun
The tough outer covering of the woody stems and roots of trees, shrubs, and other woody plants. It includes all tissues outside the vascular cambium.
A specific kind of bark used for a special purpose, as in tanning or medicine.
transitive verb
barked, bark·ing, barks
To remove bark from (a tree or log).
To rub off the skin of; abrade: barked my shin on the car door.
To tan or dye (leather or fabric) by steeping in an infusion of bark.
To treat (a patient) using a medicinal bark infusion.
Origin of bark
Middle English
from
Old Norse
börkr
Related Forms:
also barque
noun
A sailing ship with from three to five masts, all of them square-rigged except the after mast, which is fore-and-aft rigged.
A small vessel that is propelled by oars or sails.
Origin of bark
Middle English
barke
boat
from
Old French
barque
from
Old Italian
barca
from
LatinLatin
bāris
Egyptian flatbottom boat
from
Greek
from
Egyptian
byr, br
bark3
Ecuadorian tall ship Guayas
---