yell

yell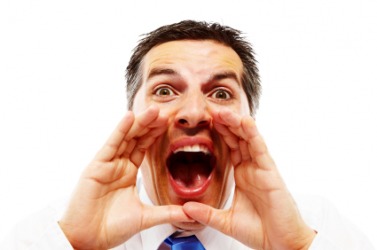 A man yells.
noun
The definition of a yell is a loud, sharp cry or shout, especially one of pain or delight.

A shout of "ouch" when you pinch your fingers is an example of a yell.
verb
To yell is to raise your voice and shout, often in anger or frustration.

When you shout at your child not to touch the stove, this is an example of a time when you yell at your child.
---
yell
to cry out loudly; shriek; scream
Origin of yell
Middle English
yellen
from Old English
giellan,
akin to Old Norse
gjalla,
Old High German
gellan
from Indo-European base an unverified form
ghel-,
to cry out from source Classical Greek
chelid?n,
a swallow
a loud outcry or shout; shriek; scream
a rhythmic cheer given in unison, as by students at a school or college football game
---
yell
verb
yelled, yell·ing, yells
verb
intransitive
To cry out loudly, as in pain, fright, surprise, or enthusiasm.
verb
transitive
To utter or express with a loud cry.
noun
A loud cry; a shout.
A cheer uttered or chanted in unison.
Origin of yell
Middle English
yellen
from
Old English
giellan, gellan
; see
ghel-
1
in Indo-European roots.
Related Forms:
---
yell

Verb
(third-person singular simple present yells, present participle yelling, simple past and past participle yelled)
(intransitive) shout; holler; make a loud sound with the voice.
to convey by shouting

He yelled directions to the party from the car.
Usage notes
To yell at someone is as in a hostile manner, while to yell to someone means to speak loudly so as to be heard.
Origin
From Middle English yellen, from Old English Ä¡iellan, from Proto-Germanic *gellanÄ….
Adjective
(not comparable)
(Ulster) dry (of cow)
---