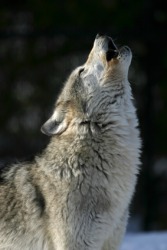 A wolf emits a howl.
noun
The definition of a howl is a long and loud drawn out cry.

An example of a howl is the noise a person would make after dropping something very heavy on their foot.
verb
Howl is defined as to cry out in pain, or loudly call out for others.

An example of howl is the a dog making a loud and drawn out cry after hearing a fire engine siren.
---
howl
to utter the long, loud, wailing cry of wolves, dogs, etc.
to utter a similar cry of pain, anger, grief, etc.
to make a sound like this: the wind howls
to shout or laugh in scorn, mirth, etc.
Origin of howl
Middle English
hulen
, akin to German
heulen
from Indo-European echoic base an unverified form
k?u-
from source Sanskrit
k?uti
, (it) cries, Old High German
h?wila
, owl
to utter with a howl or howls
to drive or effect by howling
a long, loud, wailing cry of a wolf, dog, etc.
any similar sound

Informal

something hilarious
howl down
to drown out with shouts of scorn or anger
someone's night to howl
someone's time for unrestrained pleasure: it was his night to howl
---
howl
verb
howled, howl·ing, howls
verb
intransitive
To utter or emit a long, mournful, plaintive sound.
To cry or wail loudly, as in pain, sorrow, or anger.
Slang To laugh heartily.
Slang To go on a spree.
verb
transitive
To express or utter with a howl. See Synonyms at
yell
.
noun
A long wailing cry.
A loud derisive call: the howls of an angry mob.
Slang Something uproariously funny or absurd.
Phrasal Verbs:
howl down
To drown out or silence by loud derisive calls:
The candidate was howled down at the town meeting.
Origin of howl
Middle English
houlen
---
howl

Verb
(third-person singular simple present howls, present participle howling, simple past and past participle howled)
To make a noise resembling the cry of a wild beast.
To utter with outcry.

to howl derision
Origin
From Middle English (c.1220) houlen, probably imitative
---