riot

ri·ot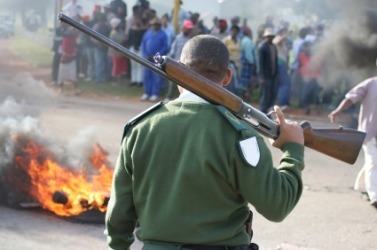 A guard faces a group of rioters.
noun
The definition of a riot is a violent uprising or wild disturbance by a crowd, or an outburst or torrent of uncontrolled feelings or emotions.

Violent protests held in the streets are an example of a riot.
An offense art exhibit that gets everyone really mad is an example of an art exhibit that causes a riot.
When you feel a torrent of controlled anger, this is an example of a riot of anger.
verb
To riot is to take part in violent protests or disturbances or to act in an unrestrained or uncontrolled way.

When you take to the streets in violent protest, this is an example of a time when you riot.
---
riot
wild or violent disorder, confusion, or disturbance; tumult; uproar
a violent public disturbance of the peace, by a number of persons (specified, in law, usually as three or more) assembled together
an unrestrained outburst, as of laughter
a brilliant, vivid display: a riot of color

Now Rare

wild, loose living; debauchery
unrestrained revelry
a wild, noisy feast or revel

Informal

an extremely amusing person, thing, or event
Origin of riot
Middle English from Old French
riote
from
rihoter,
to make a disturbance
to take part in a tumult or disturbance of the peace

Now Rare

to live in a wild, loose manner
to engage in unrestrained revelry
to indulge without restraint; revel (in something)
Origin of riot
ME
rioten
< OFr
rihoter
Now Rare
to waste (money, time, etc.) in disorderly or profligate living
run riot
Origin of riot
orig. of dogs barking on the wrong scent
to run wild; act without restraint, control, or discipline
to grow in luxuriance or profusion
---
riot
noun
A wild or turbulent disturbance created by a large number of people.
Law A violent disturbance of the public peace by three or more persons assembled for a common purpose.
An unrestrained outbreak, as of laughter or passions.
A profusion: The garden was a riot of colors in August.

a. Unrestrained merrymaking; revelry.

b. Debauchery.

Slang An irresistibly funny person or thing: Isn't she a riot?
verb
ri·ot·ed, ri·ot·ing, ri·ots
verb
intransitive
To take part in a riot.
To live wildly or engage in uncontrolled revelry.
verb
transitive
To waste (money or time) in wild or wanton living: "rioted his life out, and made an end" ( Tennyson )
Origin of riot
Middle English
from
Old French
dispute
from
rioter
to quarrel
perhaps from
ruire
to roar
from
Latin
rūgīre
Related Forms:
---
riot

Noun
(plural riots)
The tumultuous disturbance of the public peace by an unlawful assembly of three or more persons in the execution of some private object.
Verb
(third-person singular simple present riots, present participle rioting, simple past and past participle rioted)
To create or take part in a riot; to raise an uproar or sedition.

The nuclear protesters rioted outside the military base.

Alexander Pope

No pulse that riots, and no blood that glows.
Origin
From Middle English riot ("debauched living, dissipation"), from Old French riote ("debate"). Compare French riotte.
---