noun
The definition of a riot is a violent uprising or wild disturbance by a crowd, or an outburst or torrent of uncontrolled feelings or emotions.

Violent protests held in the streets are an example of a riot.
An offense art exhibit that gets everyone really mad is an example of an art exhibit that causes a riot.
When you feel a torrent of controlled anger, this is an example of a riot of anger.
verb
To riot is to take part in violent protests or disturbances or to act in an unrestrained or uncontrolled way.

When you take to the streets in violent protest, this is an example of a time when you riot.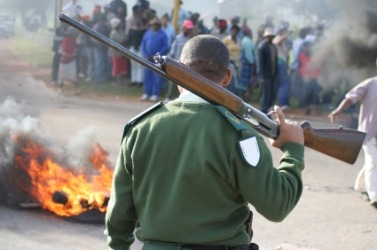 A guard faces a group of rioters.
---
riot definition by Webster's New World
noun
wild or violent disorder, confusion, or disturbance; tumult; uproar
a violent public disturbance of the peace, by a number of persons (specified, in law, usually as three or more) assembled together
an unrestrained outburst, as of laughter
a brilliant, vivid display: a riot of color

Now Rare

wild, loose living; debauchery
unrestrained revelry
a wild, noisy feast or revel

☆

Informal

an extremely amusing person, thing, or event
Origin: Middle English ; from Old French riote ; from rihoter, to make a disturbance
intransitive verb
to take part in a tumult or disturbance of the peace

Now Rare

to live in a wild, loose manner
to engage in unrestrained revelry
to indulge without restraint; revel (in something)
Origin: ME rioten < OFr rihoter
transitive verb
Now Rare
to waste (money, time, etc.) in disorderly or profligate living
Webster's New World College Dictionary Copyright © 2010 by Wiley Publishing, Inc., Cleveland, Ohio. Used by arrangement with John Wiley & Sons, Inc.
---
riot definition by American Heritage Dictionary
noun
A wild or turbulent disturbance created by a large number of people.
Law A violent disturbance of the public peace by three or more persons assembled for a common purpose.
An unrestrained outbreak, as of laughter or passions.
A profusion: The garden was a riot of colors in August.

a. Unrestrained merrymaking; revelry.

b. Debauchery.

Slang An irresistibly funny person or thing: Isn't she a riot?
verb
ri·ot·ed
,
ri·ot·ing
,
ri·ots
verb
, intransitive
To take part in a riot.
To live wildly or engage in uncontrolled revelry.
verb
, transitive
To waste (money or time) in wild or wanton living: "rioted his life out, and made an end" (Tennyson).
Origin: Middle English, from Old French, dispute, from rioter, to quarrel, perhaps from ruire, to roar, from Latin rūgīre.
Related Forms:
The American Heritage® Dictionary of the English Language, 4th edition Copyright © 2010 by Houghton Mifflin Harcourt Publishing Company. Published by Houghton Mifflin Harcourt Publishing Company. All rights reserved.
---
riot - Phrases/Idioms
run riot
Etymology: orig. of dogs barking on the wrong scent
to run wild; act without restraint, control, or discipline
to grow in luxuriance or profusion