noun
The definition of a brawl is a fight or an argument, especially a noisy or violent one.

When people start fighting loudly at a party, this is an example of a brawl.
verb
To brawl is to become involved in a noisy or violent fight.

When you start punching and fighting someone, this is an example of a time when you brawl.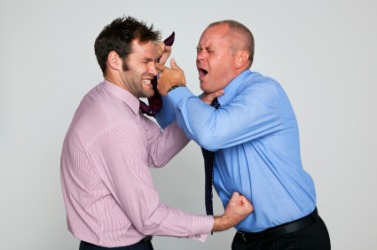 Two men having a brawl.
---
brawl
intransitive verb
to quarrel or fight noisily
to flow noisily over rapids, falls, etc.: said of water
Origin of brawl
Middle English
braulen,
to cry out, quarrel; probably akin to Dutch
brallen,
to boast
noun
a rough, noisy quarrel or fight; row

Slang

a noisy, drunken party
---
brawl
noun
A noisy quarrel or fight.
Slang A loud party.
intransitive verb
brawled
,
brawl·ing
,
brawls
To quarrel or fight noisily.
Origin of brawl
Middle English
braul
, from
braullen
,
to quarrel
.
Related Forms:
---
brawl
Noun
(plural brawls)
A fight, usually with a large number of people involved.
Verb
(third-person singular simple present brawls, present participle brawling, simple past and past participle brawled)
To complain loudly; to scold.
To make a loud confused noise, as the water of a rapid stream running over stones.
Origin
Middle English braule, brall "brawl, squabble" from braulen, brallen "to clamour, boast, quarrel". Compare Middle High German prālen "to boast, flaunt" (German prahlen "to vaunt, boast, flaunt"), Low German brallen "to brag", Dutch brallen "to boast", Danish bralle "chatter, jabber".
---