bash

bash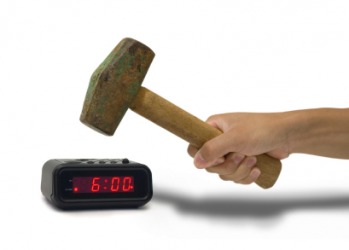 Someone about to bash a clock with a hammer.
noun
The definition of a bash is a strong hit, or a fun celebration.

An example of a bash is a baseball player's homerun hit.
An example of a bash is a big New Year's Eve party.
verb
To bash is to hit very hard or to say unkind things about someone or something.

An example of bash is to stub your toe into a chair if you are not being careful.
An example of bash is what you might say to someone for whom you have great distaste.
---
bash
to strike with a violent blow; smash (in)
to attack or abuse, as with blows or with words
Origin of bash
echoic; akin to or from uncertain or unknown; perhaps Old Norse an unverified form
basca,
to strike
Informal

a violent blow

Slang

a gala event or party
have a bash at
Slang
to make an attempt at
---
bash
verb
bashed, bash·ing, bash·es
verb
transitive
To strike with a heavy, crushing blow: The thug bashed the hood of the car with a sledgehammer.
To beat or assault severely: The police arrested the men who bashed an immigrant in the park.
Informal To criticize (another) harshly, accusatorially, and threateningly: "My point is not to bash teachers or healthcare providers" ( Richard Weissbourd )
verb
intransitive
Informal
To engage in harsh, accusatory, threatening criticism.
noun
Informal A heavy, crushing blow.
Slang A celebration; a party.
Origin of bash
Origin unknown
Related Forms:
---
bash

Acronym
(computing) Name of the Free Software Foundation's command interpreter (the "shell") for UNIX-like operating system.

Bash stands for "Bourne-again shell".
---