interpreter

in·ter·pret·er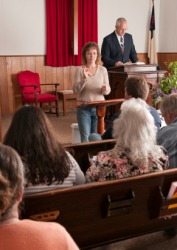 An interpreter for the deaf at a church service.
noun
The definition of an interpreter is a person or a computer program that translates from one language to another so that people who speak different languages can communicate.

When a person who speaks English and a person who speaks Italian have a meeting and need to communicate with each other, an interpreter is the person who translates from Italian to English and vice versa.
---
interpreter
a person who interprets; specif., a person whose work is translating a foreign language orally, as in a conversation between people speaking different languages
a computer program that translates and executes, statement by statement, a program written in a high-level language
Origin of interpreter
Middle English
interpretour
from Anglo-French from Old French
interpreteur
from Ecclesiastical Late Latin
interpretator
---
interpreter
noun
One who translates orally from one language into another.
One who gives or expounds an interpretation: "An actor is an interpreter of other men's words, often a soul which wishes to reveal itself to the world" ( Alec Guinness )
Computers A program that executes other programs.
---
interpreter

Noun
(plural interpreters)
One who listens to a speaker in one language and relates that utterance to the audience in a different language. Contrasted with translator.

A Japanese man who is tried before a German court is assisted by an interpreter in making oral statements.

(figuratively) One who explains something, such as an art exhibit.
Origin
From Middle English, from Latin interpretor ("to explain, expound, understand"), from interpres ("agent, translator").
Displaced native Old English wealhstod.
See also:
interpréter
---
interpreter - Computer Definition
A high-level programming language translator that translates and runs the program at the same time. It converts one program statement into machine language, executes it, and then proceeds to the next statement. This differs from regular executable programs that are presented to the computer as binary-coded instructions. Interpreted programs remain in the source language the programmer wrote in, which is human readable text. Slower, But Easier to Test Interpreted programs run slower than their compiler counterparts. Whereas the compiler translates the entire program before it is run, interpreters translate a line at a time while the program is being run. However, it is very convenient to write an interpreted program, since a single line of code can be tested interactively. Some languages can be both interpreted and compiled, in which case a program may be developed with the interpreter for ease of testing and debugging and later compiled for production use. See JIT compiler. The Runtime Interpreter Must Be Present Interpreted programs must always be run with the interpreter, commonly called a runtime module. For example, in order to run a BASIC or Foxbase program, the BASIC or Foxbase interpreter must be running as well. Interpreted Vs. Intermediate Languages Interpreted languages also differ from intermediate languages such as Java, which are partially converted but still require a runtime module (see Java and Java virtual machine).
---