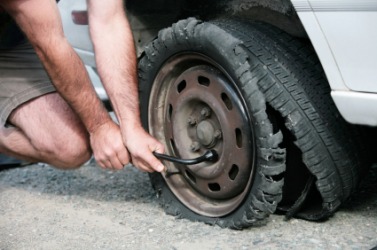 A man changing a tire after a blowout.
noun
The definition of a blowout is when a tire bursts or a fuse melts, or when hair is dried with a hairdryer.

An example of a blowout is the tire of a big truck exploding while on the freeway.
A fuse that gets too much current and melts is an example of a blowout.
Styling your hair with a blowdryer is an example of a blowout.
---
blowout
the act or result of blowing out; specif.,

the bursting of a tire
the melting of an electric fuse from too much current

Slang

a party, banquet, or celebration

Slang

an overwhelming victory or, esp. in sports, defeat
---
blowout
noun
a. A sudden rupture or bursting, as of an automobile tire.

b. The hole made by such a rupture.

A sudden escape of a confined gas or liquid, as from a well.
Informal

a. A large party or other social affair: "Lunch was a billion-calorie blowout beside the pool" ( Vanity Fair )

b. A lopsided victory or thorough defeat.

c. A sale in which the discounts are unusually large.

A treatment, as at a beauty salon, in which the hair is washed, blown dry, and styled without being cut.
---
blowout

Noun
(plural blowouts)
a sudden puncturing of a pneumatic tyre / tire
(slang, sports) A sporting contest that is decidedly one-sided and whose outcome is no longer in doubt. Often occurs when one team is superior to the other.

The game between the two teams was nothing but a blowout.

(geology) A sandy depression in a sand dune ecosystem caused by the removal of sediments by wind.
(Australia) an extreme and unexpected increase in costs, such as in government estimates for a project.
---