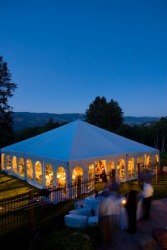 A tent set up for a gala evening event.
noun
The definition of a gala is a glamorous, festive social event or party, often with dancing or performances.

A fancy social event to raise funds for a charity is an example of a gala.
---
gala
a festive occasion; festival; celebration
a public entertainment
[G-] a red to red-and-gold variety of apple with sweet, crisp flesh
Origin of gala
from French or Italian
gala
from Spanish from uncertain or unknown; perhaps Arabic
khilá
, a royal presentation robe
festive, or suitable for a festive occasion
---
gala
noun
A festive occasion, especially a lavish social event or entertainment.
Chiefly British An athletic competition, especially a swimming contest.
adjective
Marked by lavish or festive celebration: a gala ball after the inaugural ceremony.
Characterized by sumptuous social pleasure: the gala life of the very rich.
Origin of gala
ItalianFrench
both ultimately from
Old French
gale
rejoicing
from
galer
to make merry
; see
gallant
.
Gala
noun
A variety of apple with crisp fruit that has yellow skin streaked with red.
---
gala

---