noun
The definition of carnival is the time before Lent when people celebrate with parties and large meals.

An example of carnival is Mardi Gras.

A carnival is defined as a group of traveling performers, sideshow attractions and rides.

An example of a carnival is a traveling amusement park.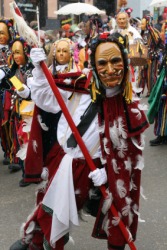 A carnival parade in Germany.
---
carnival definition by Webster's New World
noun
the period of feasting and revelry just before Lent

a reveling or time of revelry; festivity; merrymaking
a time or place of excess, vitality, chaos, etc.

a traveling commercial entertainment with sideshows, rides, games, etc.
an organized program of festivities, contests, etc.: a winter sports carnival
Origin: ; from French carnaval (or Italian carnevale) ; from Midieval Latin carnelevarium ; from an unverified form carnem levare, to remove meat (see harvest and amp; lever); associated, association by folk etymology with Midieval Latin carne vale, "Flesh, farewell!" ; from Classical Latin caro, flesh plush vale: see valediction
Webster's New World College Dictionary Copyright © 2010 by Wiley Publishing, Inc., Cleveland, Ohio. Used by arrangement with John Wiley & Sons, Inc.
---
carnival definition by American Heritage Dictionary
noun
often Carnival The period of merrymaking and feasting celebrated just before Lent.
A traveling amusement show usually including rides, games, and sideshows.
A festival or revel: winter carnival.
Origin: Italian carnevale, from Old Italian carnelevare, Shrovetide : carne, meat (from Latin carō, carn-; see sker-1 in Indo-European roots) + levare, to remove (from Latin levāre, to raise; see legwh- in Indo-European roots).