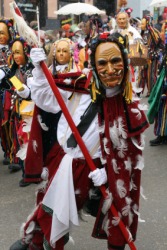 A carnival parade in Germany.
noun
The definition of carnival is the time before Lent when people celebrate with parties and large meals.

An example of carnival is Mardi Gras.

A carnival is defined as a group of traveling performers, sideshow attractions and rides.

An example of a carnival is a traveling amusement park.
---
carnival
the period of feasting and revelry just before Lent

a reveling or time of revelry; festivity; merrymaking
a time or place of excess, vitality, chaos, etc.

a traveling commercial entertainment with sideshows, rides, games, etc.
an organized program of festivities, contests, etc.: a winter sports carnival
Origin of carnival
from French
carnaval
(or Italian
carnevale
) from Medieval Latin
carnelevarium
from an unverified form
carnem levare
, to remove meat (see harvest and lever); associated, association by folk etymology with Medieval Latin
carne vale
, "Flesh, farewell!" from Classical Latin
caro
, flesh +
vale
: see valediction
---
carnival
noun
often Carnival The period of merrymaking and feasting celebrated just before Lent.
A traveling amusement show usually including rides, games, and sideshows.
A festival or revel: winter carnival.
Origin of carnival
Italian
carnevale
from
Old Italian
carnelevare
Shrovetide
carne
meat
(
from
Latin
carō
carn-
; see
sker-
1
in Indo-European roots.)
levare
to remove
(
from
Latin
levāre
to raise
; see
legwh-
in Indo-European roots.)
---
carnival

Noun
(plural carnivals)
A festive occasion marked by parades and sometimes special foods and other entertainment.

We all got to ride the merry-go-round when the brought their carnival to town.
When the carnival came to town, every one wanted some cotton candy.
(US English) a traveling amusement park, called a funfair in UK English.
Origin
From French carnaval, from Italian carnevale, from the Latin phrase carnem levāre, to put away meat
Proper noun
The season just before the beginning of the Roman Catholic season of Lent, when New Orleans has its Mardi Gras carnival.
---