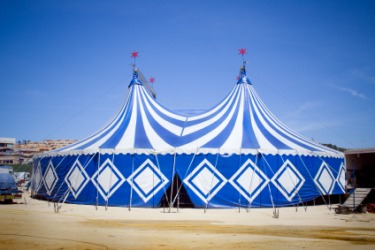 A circus tent.
---
circus definition by Webster's New World
noun
in ancient Rome, an oval or oblong arena with tiers of seats around it, used as for games or chariot races
a similar arena, often enclosed in a tent or building for performances by acrobats, trained animals, clowns, etc.
a traveling show of this sort or its personnel, equipment, etc.
the performance of such a show

Brit.

a circular open place where many streets come together: used esp. in place names
☆

Informal

anything thought of as being like a circus, as an event, place, or activity that is riotously entertaining, spectacular, frenzied, disorganized, etc.: a media circus
Origin: Classical Latin a circle, ring, racecourse ; from or akin to Classical Greek kirkos, a circle ; from Indo-European an unverified form kirk- ; from base an unverified form (s)ker-, to turn, bend from source Classical Greek korōnos and amp; Classical Latin curvus, curved
Webster's New World College Dictionary Copyright © 2010 by Wiley Publishing, Inc., Cleveland, Ohio. Used by arrangement with John Wiley & Sons, Inc.
---
circus definition by American Heritage Dictionary
noun
a. A public entertainment consisting typically of a variety of performances by acrobats, clowns, and trained animals.

b. A traveling company that performs such entertainments.

c. A circular arena, surrounded by tiers of seats and often covered by a tent, in which such shows are performed.

A roofless oval enclosure surrounded by tiers of seats that was used in antiquity for public spectacles.
Chiefly British An open circular place where several streets intersect.
Informal Something suggestive of a circus, as in frenetic activity or noisy disorder: "The city is a circus of the senses" (William H. Gass).
Origin: Middle English, round arena, from Latin, circus, circle; see circle.
Related Forms:
Word History:
The modern circus owes its name, but fortunately not its regular program of events, to the amusements of ancient times. The Latin word
circus,
which comes from the Greek word
kirkos,
"circle, ring," referred to a circular or oval area enclosed by rows of seats for spectators. In the center ring, so to speak, was held a variety of events, including chariot races and gladiatorial combats, spectacles in which bloodshed and brutality were not uncommon. The first use of
circus
recorded in English, in a work by Chaucer written around 1380, probably refers to the Circus Maximus in Rome. Our modern circus, which dates to the end of the 18th century, was originally an equestrian spectacle as well, but the trick riders were soon joined in the ring by such performers as ropedancers, acrobats, and jugglers. Even though the circular shape of the arena and the equestrian nature of some of the performances are carried over from its Roman namesake, the modern circus has little connection with its brutal namesake of long ago.
The American Heritage® Dictionary of the English Language, 4th edition Copyright © 2010 by Houghton Mifflin Harcourt Publishing Company. Published by Houghton Mifflin Harcourt Publishing Company. All rights reserved.
---
circus - Phrases/Idioms