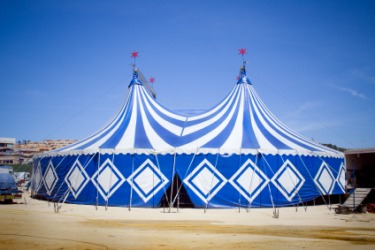 A circus tent.
---
circus
noun
in ancient Rome, an oval or oblong arena with tiers of seats around it, used as for games or chariot races
a similar arena, often enclosed in a tent or building for performances by acrobats, trained animals, clowns, etc.
a traveling show of this sort or its personnel, equipment, etc.
the performance of such a show

Brit.

a circular open place where many streets come together: used esp. in place names
☆

Informal

anything thought of as being like a circus, as an event, place, or activity that is riotously entertaining, spectacular, frenzied, disorganized, etc.: a media circus
Origin of circus
Classical Latin a circle, ring, racecourse ; from or akin to Classical Greek
kirkos,
a circle ; from Indo-European an unverified form
kirk-
; from base an unverified form
(s)ker-,
to turn, bend from source Classical Greek
korōnos
and amp; Classical Latin
curvus,
curved
---
circus
noun
a. A public entertainment consisting typically of a variety of performances by acrobats, clowns, and trained animals.

b. A traveling company that performs such entertainments.

c. A circular arena, surrounded by tiers of seats and often covered by a tent, in which such shows are performed.

A roofless oval enclosure surrounded by tiers of seats that was used in antiquity for public spectacles.
Chiefly British An open circular place where several streets intersect.
Informal Something suggestive of a circus, as in frenetic activity or noisy disorder: "I was amazed at the amount of hubbub in the lobby &ellipsis; it was a circus. The check-in area brought to mind a mustering station on a foundering cruise ship" (Bill Bryson).
Origin of circus
Middle English,
round arena
, from Latin,
circus, circle
; see
circle
.
Related Forms:
---
circus
---