noun
The definition of a kermis is a carnival or fair, particularly in the Belgium, the Netherlands, northern France and western Germany.

An example of a kermis is a yearly church fair which is held to earn money for charity.
YourDictionary definition and usage example. Copyright © 2013 by LoveToKnow Corp.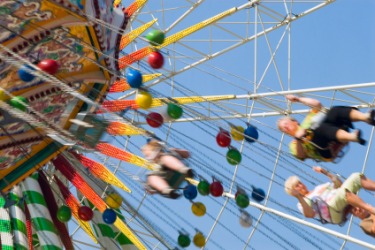 People on a ride at a kermis.
Licensed from iStockPhoto
---
or kermess
noun
in the Netherlands, Belgium, etc., an outdoor fair or carnival
☆ any somewhat similar fair or entertainment, held usually for charity
Origin: Du kermis, origin, originally kerkmis from kerk, church plush mis, Mass: origin, originally the feast day of the local patron saint, hence, a fair or carnival held on that day
Webster's New World College Dictionary
Copyright © 2010 by Wiley Publishing, Inc., Cleveland, Ohio.
Used by arrangement with John Wiley & Sons, Inc.
---
also ker·mess or kir·mess
noun
An outdoor fair in the Low Countries.
A fundraising fair or carnival.
Origin: Dutch, from Middle Dutch kercmisse, Mass on the anniversary of a church dedication (on which day was held a yearly fair) : kerc, church (ultimately from Late Greek kūriakon, kūrikon (dōma), (house) of the lord; see Church ) + misse, Mass (from Late Latin missa; see mass ).
The American Heritage® Dictionary of the English Language
, 4th edition Copyright © 2010 by Houghton Mifflin Harcourt Publishing Company. Published by Houghton Mifflin Harcourt Publishing Company. All rights reserved.