church

church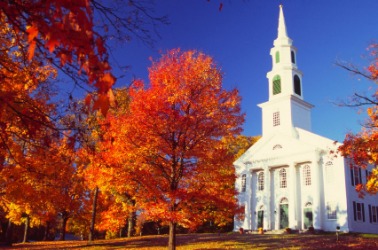 A small village church in autumn.
noun
The definition of church is a religious institution of worship, or is the building where religious worship takes place.

An example of church is the Christian church.
An example of church is where a religious service regularly takes place.
---
church
a building set apart or consecrated for public worship, esp. one for Christian worship
religious service or public worship, esp. among Christians
[usuallyC-]

all Christians considered as a single body
a particular sect or denomination of Christians

the ecclesiastical government of a particular religious group, or its power, as opposed to secular government
the profession of the clergy; clerical profession
a group of worshipers; congregation
Origin of church
Middle English
chirche, kirke
from Old English
cirice
(& Old Norse
kirkja
from OE) from Germanic an unverified form
kirika
from Ecclesiastical Late Greek an unverified form
kyrik?
from Classical Greek
kyriak? (oikia)
, Lord's (house) from
kyriakos,
belonging to the Lord from
kyrios,
ruler from
kyros,
supreme power from Indo-European base an unverified form
?eu-,
a swelling, to be strong, hero from source cave
to bring (esp. a woman after childbirth) to church for special services
having to do with organized Christian worship
of or connected with a church
Church
1826-1900; U.S. landscape painter
---
church
noun
A building for public, especially Christian worship.
often Church

a. The company of all Christians regarded as a spiritual body.

b. A specified Christian denomination: the Presbyterian Church.

c. A congregation.

Public divine worship in a church; a religious service: goes to church at Christmas and Easter.
The clerical profession; clergy.
Ecclesiastical power as distinguished from the secular: the separation of church and state.
transitive verb
churched, church·ing, church·es
To conduct a church service for, especially to perform a religious service for (a woman after childbirth).
adjective
Of or relating to the church; ecclesiastical.
Origin of church
Middle English
chirche
from
Old English
cirice
ultimately from
Medieval Greek
kūrikon
from
Late Greek
kūriakon (dōma)
the Lord's (house)
neuter of
Greek
kūriakos
of the lord
from
kūrios
lord
; see
keuə-
in Indo-European roots.
---
church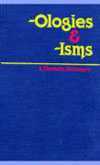 See also christianity; religion
collegialism
the belief that the church as an organization is independent of and equal to the state, with its highest authority lying in its collective membership.
diaconate
the rank or office of a deacon.
ecclesiarch
Eastern Church
. sacristan.
ecclesiasticism
an excessive adherence to the doctrines and practices of the church. —
ecclesiastic
, n.,
adj
. —
ecclesiastical
,
adj
.
ecclesioclasticism
Rare
. an opposition to the church.
ecclesiography
a descriptive study of the church. —
ecclesiographer
,
n
. —
ecclesiographic, ecclesiographical
,
adj
.
ecclesiolatry
an intense devotion to church forms, authority, and traditions.
ecclesiology
1.
the study of church building and decoration.
2.
Theology
. the doctrine of the church.
3.
the policy and operations of the church. —
ecclesiologist
,
n
. —
ecclesiologic, ecclesiological
,
adj
.
ecclesiophobia
an abnormal fear or dislike of the church.
festilogy
a dissertation on church festivals.
hieromania
a mania for priests.
lectionary
a list of the lections, or texts, to be read in church services through-out the canonical year.
nonage
formerly, a ninth part of a parishioner's movable property, which was claimed upon his death by the clergy in England. See also
law
.
precentor
a person who leads a church choir or congregation in singing.
sacristan
an official or cleric appointed curator of the vestments, sacred vessels, and relies of a religious body, church, or cathedral.
simony
the sin or offense of selling or granting for personal advantage church appointments, benefices, preferments, etc. —
simoniac, simonist
, n.
spoliation
Church Law
. the taking of property by an incumbent upon resignation or any other departure. See also
ships
;
theft
;
war
.
---
church

---