noun
The definition of church is a religious institution of worship, or is the building where religious worship takes place.

An example of church is the Christian church.
An example of church is where a religious service regularly takes place.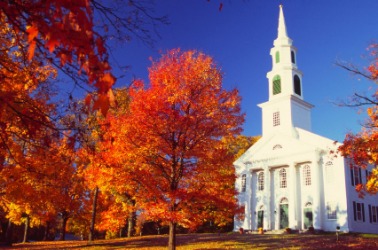 A small village church in autumn.
---
Church
noun
a building set apart or consecrated for public worship, esp. one for Christian worship
religious service or public worship, esp. among Christians

all Christians considered as a single body
a particular sect or denomination of Christians

the ecclesiastical government of a particular religious group, or its power, as opposed to secular government
the profession of the clergy; clerical profession
a group of worshipers; congregation
Origin of church
Middle English
chirche, kirke
; from Old English
cirice
(& Old Norse
kirkja
; from OE) ; from Germanic an unverified form
kirika
; from Ecclesiastical Late Greek an unverified form
kyrikē
; from Classical Greek
kyriakē (oikia)
, Lord's (house) ; from
kyriakos,
belonging to the Lord ; from
kyrios,
ruler ; from
kyros,
supreme power ; from Indo-European base an unverified form
eu-,
a swelling, to be strong, hero from source cave
transitive verb
to bring (esp. a woman after childbirth) to church for special services
adjective
having to do with organized Christian worship
of or connected with a church
Church, Frederic Edwin 1826-1900; U.S. landscape painter
---
Church
noun
A building for public, especially Christian worship.
often Church

a. The company of all Christians regarded as a spiritual body.

b. A specified Christian denomination: the Presbyterian Church.

c. A congregation.

Public divine worship in a church; a religious service: goes to church at Christmas and Easter.
The clerical profession; clergy.
Ecclesiastical power as distinguished from the secular: the separation of church and state.
transitive verb
churched
,
church·ing
,
church·es
To conduct a church service for, especially to perform a religious service for (a woman after childbirth).
adjective
Of or relating to the church; ecclesiastical.
Origin of church
Middle English
chirche
, from Old English
cirice
, ultimately from Medieval Greek
kūrikon
, from Late Greek
kūriakon (dōma)
,
the Lord's (house)
, neuter of Greek
kūriakos
,
of the lord
, from
kūrios
,
lord
; see
keu&schwa;-
in Indo-European roots.
---
church
See also christianity; religion
collegialism
the belief that the church as an organization is independent of and equal to the state, with its highest authority lying in its collective membership.
diaconate
the rank or office of a deacon.
ecclesiarch
Eastern Church
. sacristan.
ecclesiasticism
an excessive adherence to the doctrines and practices of the church. —
ecclesiastic
, n.,
adj
. —
ecclesiastical
,
adj
.
ecclesioclasticism
Rare
. an opposition to the church.
ecclesiography
a descriptive study of the church. —
ecclesiographer
,
n
. —
ecclesiographic, ecclesiographical
,
adj
.
ecclesiolatry
an intense devotion to church forms, authority, and traditions.
ecclesiology
1.
the study of church building and decoration.
2.
Theology
. the doctrine of the church.
3.
the policy and operations of the church. —
ecclesiologist
,
n
. —
ecclesiologic, ecclesiological
,
adj
.
ecclesiophobia
an abnormal fear or dislike of the church.
festilogy
a dissertation on church festivals.
hieromania
a mania for priests.
lectionary
a list of the lections, or texts, to be read in church services through-out the canonical year.
nonage
formerly, a ninth part of a parishioner's movable property, which was claimed upon his death by the clergy in England. See also
law
.
precentor
a person who leads a church choir or congregation in singing.
sacristan
an official or cleric appointed curator of the vestments, sacred vessels, and relies of a religious body, church, or cathedral.
simony
the sin or offense of selling or granting for personal advantage church appointments, benefices, preferments, etc. —
simoniac, simonist
, n.
spoliation
Church Law
. the taking of property by an incumbent upon resignation or any other departure. See also
ships
;
theft
;
war
.
---
Church
Noun
(countable and uncountable, plural churches)
(countable) A Christian house of worship; a building where religious services take place. [from 9th c.]

There is a lovely little church in the valley.
This building used to be a church before being converted into a library.

Christians collectively seen as a single spiritual community; Christianity. [from 9th c.]

These worshippers make up the Church of Christ.

(countable) A local group of people who follow the same Christian religious beliefs, local or general. [from 9th c.]
(countable) A particular denomination of Christianity. [from 9th c.]

The Church of England separated from the Roman Catholic Church in 1534.

A (non-Christian) religion; a religious group. [from 16th c.]

She goes to a Wiccan church down the road.
Usage notes
Several senses of church are routinely used in prepositional phrases as a bare noun, without a determiner or article. This is like home and unlike house.
Verb
(third-person singular simple present churches, present participle churching, simple past and past participle churched)
(now historical) To conduct a religious service for (a woman) after childbirth. [from 15th c.]
To educate someone religiously, as in in a church.
Origin
From Middle English chirche, from Old English ċiriċe ("church"), from Proto-Germanic *kirikǭ, an early borrowing of Ancient Greek κυριακόν (kuriakon), neuter form of κυριακός (kuriakos, "belonging to the lord"), from κύριος (kurios, "ruler, lord"), from Proto-Indo-European *ḱēw-, *ḱwā- ("to swell, spread out, be strong, prevail").
For vowel evolution, see bury. Greek κυριακόν (kuriakon) was used of houses of Christian worship since circa 300 AD, especially in the East, though it was less common in this sense than ἐκκλησία (ekklēsia, "congregation") or βασιλική (basilikē, "royal thing"). An example of the direct Greek-to-Germanic progress of many Christian words, via the Goths; it was probably used by West Germanic people in their pre-Christian period. Cognate with Scots kirk ("church"), West Frisian tsjerke ("church"), Saterland Frisian Säärke ("church"), Dutch kerk ("church"), German Kirche ("church"), Danish kirke ("church"), Swedish kyrka ("church"), Norwegian kirke, kyrkje ("church"), and Icelandic kirkja ("church"). Also picked up by Slavic, via Old High German chirihha (compare Old Church Slavonic црькꙑ (crĭky), Bulgarian църква (cǎrkva), Russian церковь (cerkovʹ)). Romance and Celtic languages use variants of Latin ecclesia.
Proper noun
A surname​.
(used with "the") A specific church (Christian religious denomination), such as the Church of England or the Catholic Church.
---
Church
Variant of church
noun
a building set apart or consecrated for public worship, esp. one for Christian worship
religious service or public worship, esp. among Christians

all Christians considered as a single body
a particular sect or denomination of Christians

the ecclesiastical government of a particular religious group, or its power, as opposed to secular government
the profession of the clergy; clerical profession
a group of worshipers; congregation
Origin of church
Middle English
chirche, kirke
; from Old English
cirice
(& Old Norse
kirkja
; from OE) ; from Germanic an unverified form
kirika
; from Ecclesiastical Late Greek an unverified form
kyrikē
; from Classical Greek
kyriakē (oikia)
, Lord's (house) ; from
kyriakos,
belonging to the Lord ; from
kyrios,
ruler ; from
kyros,
supreme power ; from Indo-European base an unverified form
eu-,
a swelling, to be strong, hero from source cave
transitive verb
to bring (esp. a woman after childbirth) to church for special services
adjective
having to do with organized Christian worship
of or connected with a church