religious
re·li·gious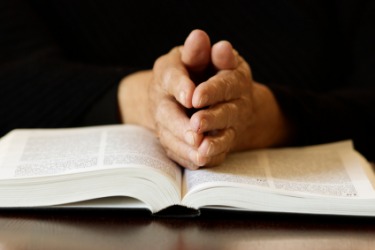 A religious person praying.
adjective
The definition of religious is someone or something believing in or related to religion.

An example of religious is a church choir.
An example of religious is a person who goes to church every Sunday and reads the Bible every day.
---
religious
characterized by adherence to religion or a religion; devout; pious; godly
of, concerned with, appropriate to, or teaching religion: religious books
belonging to a community of monks, nuns, etc.
conscientiously exact; careful; scrupulous
Origin of religious
Old French ; from Classical Latin
religiosus
pl.
-·gious
a member of a community of monks, nuns, etc.
---
religious
adjective
Having or showing belief in and reverence for God or a deity.
Of, concerned with, or teaching religion: a religious text.
Extremely scrupulous or conscientious: religious devotion to duty.
noun
pl.
religious
A member of a monastic order, especially a nun or monk.
Origin of religious
Middle English, from Old French, from Latin
religi&omacron;sus
, from
religi&omacron;
,
religion
; see
religion
.
Related Forms:
---
religious
Adjective
(comparative more religious, superlative most religious)
Concerning religion.

It is the job of this court to rule on legal matters. We do not consider religious issues.

Committed to the practice of religion.

I was much more religious as a teenager than I am now.

Highly dedicated, as one would be to a religion.

I'm a religious fan of college basketball.
Hyponyms
Muslim, Jew, Hindu, Buddhist, Baha'i, Wiccan, Eckist, Druid, Jain, Raëlian, Sikh, Taoist, Zoroastrian, Unitarian Universalist, New Ager, reconstructionist, LaVeyan Satanist, Scientologist, Rastafarian, Taoist, pagan, spiritist, humanist, Thelemite, Confucianist
Noun
(plural religious)
A member of a religious order, i.e. a monk or nun.
Origin
From Anglo-Norman relegius, religius et al., Old French religious, religieux, and their source, Latin religiōsus ("religious, superstitious, conscientious"), from religiō ("religion").
---