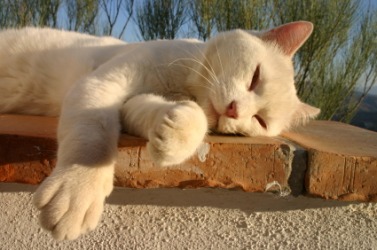 A lazy cat sleeps in the sun.
adjective
The definition of lazy is slow or sluggish behavior.

An example of lazy is an athlete who is not training well.
An example of lazy is an afternoon where there is not much action going on.

Lazy is defined as feeling like resting instead of working or moving around.

An example of lazy is a cat in the sun.
---
lazy
adjective
-·zi·er

,

-·zi·est
not eager or willing to work or exert oneself; indolent; slothful
slow and heavy; sluggish: a lazy river
characterized by idleness, relaxation, etc.: a lazy day
designating or of a letter or figure placed on its side in a livestock brand
Origin of lazy
Early ModE, probably from Middle Low German or MDu, as in Middle Low German
lasich
, slack, loose from Indo-European an unverified form
les-
, slack, tired, akin to base an unverified form
l?i-
: see late
intransitive verb
transitive verb
-·zied

,

-·zy·ing
laze
---
lazy
adjective
la·zi·er, la·zi·est
Not willing to work or be energetic.
Slow-moving; sluggish: a lazy river.
Conducive to inactivity or indolence: a lazy summer day.
Depicted as reclining or lying on its side. Used of a brand on livestock.
Origin of lazy
Probably of Low German origin
Related Forms:
---
lazy

Adjective
(comparative lazier, superlative laziest)
Requiring little or no effort.
Relaxed or leisurely.

I love staying inside and reading on a lazy Sunday.
We strolled along beside a lazy stream.

(cattle branding) Turned so that the letter is horizontal instead of vertical.
(computing theory) Employing lazy evaluation; not calculating results until they are immediately required.

a lazy algorithm
Usage notes
Nouns to which "lazy" is often applied: person, man, woman, bastard, morning, day, time, way.
Origin
1540, origin uncertain, but probably from Middle Low German lasich ("slack, feeble, lazy"), from las, from Proto-Germanic *lasiwaz, *laskaz ("feeble, weak"), from Proto-Indo-European *las- ("weak"). Akin to Dutch leuzig "lazy", Old Norse lasinn "limpy, tired, weak", Old English lesu, lysu "false, evil, base". More at lush.
Alternate etymology traces lazy to Early Modern English laysy, a derivative of lay (plural lays + -y) in the same way that tipsy is derived from tip. See lay.
---