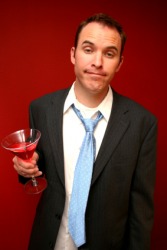 This man is tipsy.
adjective
The definition of tipsy is just a little bit drunk.

A person who is a little bit drunk is an example of someone who would be described as tipsy.
---
tipsy
adjective
-·sier

,

-·si·est
that tips easily; not steady; shaky
crooked; awry

Informal

somewhat drunk; intoxicated enough to be somewhat unsteady, fuddled, etc.
---
tipsy
adjective
tip·si·er, tip·si·est
Slightly intoxicated.
Unsteady or crooked.
Origin of tipsy
From
tip
2
Related Forms:
---
tipsy

Adjective
(comparative tipsier, superlative tipsiest)
(metonymically) unsteady, askew
---