groggy

grog·gy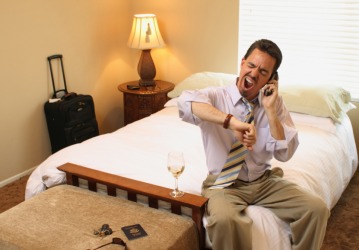 A groggy traveler.
adjective
The definition of groggy is a state of being out-of-it or dazed due to being sick or tired.

If you've just gotten off of a 10-hour plane trip and you've been awake all night, this is an example of when you would be described as groggy.
---
groggy
adjective
-·gier

,

-·gi·est
Archaic

drunk; intoxicated
shaky or dizzy, as from a blow
sluggish or dull, as from lack of sleep
Origin of groggy
from grog + -y
---
groggy
adjective
grog·gi·er, grog·gi·est
Unsteady and dazed; shaky.
Origin of groggy
From
grog
Related Forms:
---
groggy

Adjective
(comparative groggier, superlative groggiest)
Slowed or weakened, as by drink, sleepiness, etc.

The medicine made him groggy and irritable.
---