noun
The definition of a drink is a liquid made for swallowing.

An example of a drink is chocolate milk.
verb
Drink is defined as to bring into the mouth and swallow or to absorb.

An example of to drink is to take a sip of ice cold lemonade.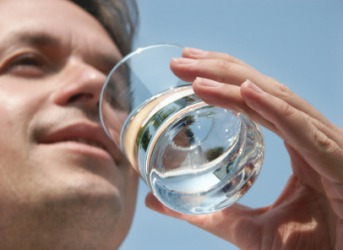 A man about to take a drink of water.
---
drink
transitive verb
drank, drunk or

Informal

drank, drinking
to take (liquid) into the mouth and swallow it
to absorb (liquid or moisture)
to swallow the contents of
to propose or take part in (a toast)
to bring (oneself) into a specified condition by drinking
to use (up) or spend by drinking alcoholic liquor
Origin of drink
Middle English
drinken
; from Old English
drincan
, akin to Old High German
trinkan
, Gothic
drigkan
; from uncertain or unknown; perhaps Indo-European base an unverified form
dhreĝ-
, to draw from source Sanskrit
dhrájas-
, draft
intransitive verb
to take liquid into the mouth and swallow it
to absorb anything as if in drinking
to drink alcoholic liquor, sometimes specif. as a matter of habit or to excess
noun
any liquid for drinking; beverage
alcoholic liquor
habitual or excessive use of alcoholic liquor
a portion of liquid drunk or for drinking
drink deep (of)
to take in a large amount (of) by or as by drinking
drink in
to take in with the senses or the mind, esp. in an eager manner
drink to
to drink in honor of; drink a toast to
the drink
☆
Informal
any body of water, esp. the ocean
---
drink
verb
drank
drank
,
drunk
drunk
,
drink·ing
,
drinks
verb
, transitive
To take into the mouth and swallow (a liquid).
To swallow the liquid contents of (a vessel): drank a cup of tea.
To take in or soak up; absorb: drank the fresh air; spongy earth that drank up the rain.
To take in eagerly through the senses or intellect: drank in the beauty of the day.

a. To give or make (a toast).

b. To toast (a person or an occasion, for example): We'll drink your health.

To bring to a specific state by drinking alcoholic liquors: drank our sorrows away.
verb
, intransitive
To swallow liquid: drank noisily; drink from a goblet.
To imbibe alcoholic liquors: They only drink socially.
To salute a person or an occasion with a toast: We will drink to your continued success.
noun
a. A liquid that is fit for drinking; a beverage.

b. An alcoholic beverage, such as a cocktail or highball.

An amount of liquid swallowed: took a long drink from the fountain.
Excessive or habitual indulgence in alcoholic liquor.
Slang A body of water; the sea: The hatch cover slid off the boat and into the drink.
Origin of drink
Middle English
drinken
, from Old English
drincan
; see
dhreg-
in Indo-European roots.
---
drink
Verb
(third-person singular simple present drinks, present participle drinking, simple past drank or regional (southern US) drunk or nonstandard drinked, past participle drunk (obsolete drunken) or informal drank or nonstandard drinked)
(intransitive) To consume (a liquid) through the mouth.

He drank the water I gave him.
You can lead a horse to water but you can't make him drink.

(intransitive) To consume alcoholic beverages.

You've been drinking, haven't you?
No thanks, I don't drink.

To take in (a liquid), in any manner; to suck up; to absorb; to imbibe.
To take in; to receive within one, through the senses; to inhale; to hear; to see.
Origin
From Middle English drinken, from Old English drincan ("to drink, swallow up, engulf"), from Proto-Germanic *drinkaną ("to drink"), *drengkan, of uncertain origin; possibly from Proto-Indo-European *dʰrenǵ- ("to draw into one's mouth, sip, gulp"), nasalised variant of *dʰreǵ- ("to draw, glide"). Cognate with West Frisian drinke ("to drink"), Low German drinken ("to drink"), Dutch drinken ("to drink"), German trinken ("to drink"), Danish drikke ("to drink").
Noun
(countable and uncountable, plural drinks)
A beverage.

I'd like another drink please.

A (served) alcoholic beverage.

Can I buy you a drink?

The action of drinking, especially with the verbs take or have.

He was about to take a drink from his root beer.

A type of beverage (usually mixed).

My favourite drink is the White Russian.

Alcohol beverages in general.
(colloquial, with the) Any body of water.

If he doesn't pay off the mafia, he'll wear cement shoes to the bottom of the drink!
Usage notes
A plainer term than more elevated term beverage. Beverage is of French origin, while drink is of Old English origin, and this stylistic difference by origin is common; see list of English words with dual French and Anglo-Saxon variations.
---