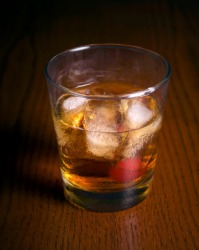 This glass of whiskey, like any alcoholic drink, is sometimes called booze.
---
booze definition by Webster's New World
intransitive verb
boozed, boozing
Informal
to drink too much alcoholic liquor
Origin: earlier bouse, bowse ; from Middle Dutch busen; akin to Middle High German bus, a bloating fullness; ultimately ; from Indo-European an unverified form bhōu-, variant, variety of base an unverified form bheu-, to grow, swell: see be
noun
an alcoholic drink; liquor
a drinking spree
Webster's New World College Dictionary Copyright © 2010 by Wiley Publishing, Inc., Cleveland, Ohio. Used by arrangement with John Wiley & Sons, Inc.
---
booze definition by American Heritage Dictionary
Slang
noun
a. Hard liquor.

b. An alcoholic beverage.

A drinking spree.
intransitive verb
boozed
boozed
,
booz·ing
,
booz·es
To drink alcoholic beverages excessively or chronically.
Origin: Alteration of obsolete bouse, from Middle English bousen, to drink to excess, from Middle Dutch būsen.
Related Forms: