cocktail
[käk′tāl′]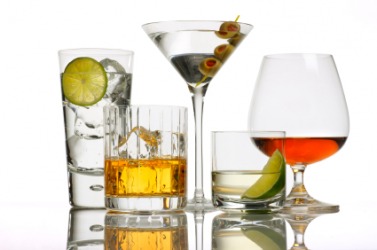 A variety of different cocktails.
noun
The definition of a cocktail is a mix of different liquors and other liquids, or an appetizer, or a mixture of drugs.

A vodka and orange juice drink called a screwdriver is an example of a cocktail.
Shrimp served chilled with a spicy sauce is an example of a cocktail.
A mix of different drugs and medications used to treat an illness is an example of a cocktail.
---
cocktail
noun
☆ any of various alcoholic drinks made of a distilled liquor mixed as with wine, fruit juice, or soda water and usually iced
☆ an appetizer served at the beginning of a meal, as fruit juice, tomato juice, diced fruits, or seafood with a sharp sauce

Med.

a liquid medication consisting of a mixture of various substances, often including a drug
Origin of cocktail
; from uncertain or unknown; perhaps
noun
a horse with a docked tail
a horse of impure breed
Origin of cocktail
; from cock + tail
---
cocktail
noun
Any of various mixed alcoholic drinks consisting usually of brandy, whiskey, vodka, or gin combined with fruit juices or other liquors and often served chilled.
An appetizer made by combining pieces of food, such as fruit or seafood: fruit cocktail; shrimp cocktail.
Medicine

a. A mixture of drugs, usually in solution, for the diagnosis or treatment of a condition.

b. A treatment regimen that includes a combination of several drugs, so that their combined effect is more potent than that of any of the drugs used individually.
adjective
Of or relating to cocktails: a cocktail glass; a cocktail party.
Suitable for wear on semiformal occasions: a cocktail dress.
Origin of cocktail
Origin unknown
.
---
cocktail
Origin
Unknown, many unproven stories exist. The word first appeared in 1806 (see citation below). The non-drink sense is by extension of the drink sense.
---