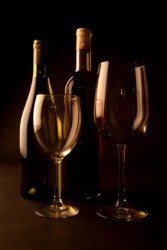 A couple bottles of hooch.
---
hooch definition by Webster's New World
☆
noun
Slang
alcoholic liquor; esp., liquor that is of low quality or that is made or obtained illegally
Origin: contr. of Alaskan Indian; Indic hoochinoo, crude alcoholic liquor made by the Hoochinoo Indians (; from Hutsnuwu, literally , grizzly bear fort)
☆
noun
Mil., Slang
a place to live in; specif., a shack or thatched hut, as in Vietnam
Origin: ; from Japanese uchi, house
Hooch, Pieter de 1629?-84?; Du. painter
Webster's New World College Dictionary Copyright © 2010 by Wiley Publishing, Inc., Cleveland, Ohio. Used by arrangement with John Wiley & Sons, Inc.
---
hooch definition by American Heritage Dictionary
also hootch
noun
Slang
Alcoholic liquor, especially inferior or bootleg liquor: "bootleggers smashed on their own hooch" (Christopher Hitchens).
Marijuana.
Origin: Short for hoochinoo, from Hoochinoo, a Tlingit village where illegal liquor was distilled, from Tlingit xutsnuuwú.
also hootch
noun
Slang
A dwelling, especially a thatched hut.
Origin: Alteration (perhaps influenced by hut) of Japanese uchi, inside, interior.
, Pieter de 1629-1684.
Dutch genre painter known for his depictions of domestic life and interiors. His works include Courtyard of a House in Delft (1658).